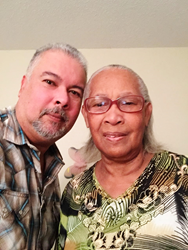 "We applaud the state of Massachusetts for continuing their commitment to caregivers and recognizing the important role respite can play in their lives."-Tom Riley, CEO of Caregiver Homes
(PRWEB) July 23, 2015
Last week, Governor Charlie Baker signed the Massachusetts State Budget into law, including a requirement that MassHealth again offer paid respite days to caregivers. For caregivers like Jose Rodriguez, who receives coaching and support from Caregiver Homes, and the 15,000+ caregivers across the Commonwealth who benefit from the Adult Foster Care program, this makes a powerful difference.
Jose cares for his mother Irma, 79, who has dementia and requires around-the-clock care from her son. Through Caregiver Homes, Jose receives professional and financial supports, allowing him to provide his mother with a high level of care at home. Respite days–days on which Jose can take a break from caregiving but on which his mother can still receive supports through Caregiver Homes—make it possible for Jose to be a better caregiver for his mother.
"I feel energized and rested when I take a break," Jose said. "The respite time is a great help to me and to other people taking care of family members."
Jose's experience is consistent with that of other live-in caregivers across the country, according to last month's Caregiving in the U.S. 2015 study. The report, conducted by AARP and the National Alliance for Caregiving, highlighted that "higher-hour caregivers are more likely to say respite services would be helpful. Respite services are especially appealing to higher-hour caregivers who live with their care recipient."
Respite is one valued part of the Caregiver Homes model. CEO of Caregiver Homes Tom Riley said, "We applaud the state of Massachusetts for continuing their commitment to developing innovative programs for caregivers and recognizing the important role respite can play in their lives."
As caregiver Jose Rodriguez said, "It's important to have time on your own every once in a while. Respite makes me a better caregiver."
About Caregiver Homes
Caregiver Homes provides a unique, long-term care service model called Structured Family Caregiving (SFC) in six states. The model is known in Connecticut as Adult Family Living, in Indiana as Structured Family Caregiving, in Louisiana as Monitored In-Home Caregiving (MIHC), in Massachusetts as Adult Foster Care, in Ohio as Shared Living, and RIte @ Home in Rhode Island. The organization, a wholly owned subsidiary of Boston-based Seniorlink, Inc. is dedicated to supporting elders with complex medical conditions and people with disabilities to live with dignity and independence in their communities. Caregiver Homes employs highly-qualified professionals and specially-designed communication technologies to empower caregivers to provide effective, high-quality care at home and to be paid for their commitment. The program was launched in 2005 and is actively serving more than 2,900 consumers with complex medical and behavioral health conditions.
Seniorlink, Inc. offers expertise in managing care for elders and people with disabilities. In addition to its innovative service model, Structured Family Caregiving, Seniorlink offers expertise to states and managed care organizations regarding cost-effective, long-term care services.