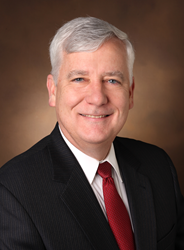 Jacksonville, Fla. (PRWEB) July 22, 2015
A former long-time faculty member of The University of Texas MD Anderson Cancer Center and current chairman of the Department of Thoracic Surgery at Vanderbilt University Medical Center has been named the medical director of Baptist MD Anderson Cancer Center, which will become operational in October. The joint cancer center becomes the third partner member of MD Anderson Cancer Network®, the institution's program to elevate the quality of cancer care in communities throughout the nation and world.
While officially starting on Oct. 1, Joe B. (Bill) Putnam Jr., MD, will lead the medical team of Baptist MD Anderson and will be in Jacksonville periodically prior to his official start working with Baptist Health and MD Anderson teams.
Since 2004, Dr. Putnam has been professor of surgery and chairman of the Department of Thoracic Surgery at Vanderbilt University Medical Center in Nashville, Tenn; Ingram Professor of Cancer Research and program director for the residency program in Thoracic Surgery. He also served as professor of Biomedical Informatics. Prior to Vanderbilt, Dr. Putnam was with the faculty of The Department of Thoracic and Cardiovascular Surgery at The University of Texas MD Anderson Cancer Center since 1988. He served as deputy chairman of the Department from 1995 to 2004. In 2000, he was promoted to professor of surgery. Dr. Putnam was activated during Operation Desert Storm as a Naval Reservist and served as Department Head of the Department of Cardiothoracic Surgery, Naval Hospital San Diego. He retired in 2011 as a Captain (O‐6), Medical Corps, United States Naval Reserve after 21 years of service.
"Dr. Putnam is a seasoned physician executive with a history of achieving bold visions; we have no doubt that he will ensure outstanding results for Baptist MD Anderson Cancer Center. He is committed to delivering an excellent patient experience and high quality outcomes provided by a coordinated team of oncology experts dedicated to ensuring our adult oncology patients receive the same evidence-based approach, advanced technology, access to research and leading cancer care that is available at MD Anderson in Texas," said Hugh Greene, president and CEO of Baptist Health.
Thomas Burke, M.D., executive vice president, MD Anderson Cancer Network, added, "Dr. Putnam and I worked together as faculty surgeons more than a decade ago, and it's great to be able to bring him back to MD Anderson in a leadership role in our network. I'm confident he'll successfully build and effectively lead the team that will deliver expert cancer care at Baptist MD Anderson Cancer Center."
Dr. Putnam was selected after a national search and was the leading candidate based on his MD Anderson experience and experience in building cancer programs.
In his role as medical director, Dr. Putnam will be involved in directing, planning and coordinating all clinical activities for Baptist MD Anderson and its physicians. He will develop strategic plans and ensure clinical activities are efficient, effective and support the research-driven, multidisciplinary, patient-centered clinical mission of Baptist MD Anderson. His goals include replicating in Jacksonville the proven MD Anderson model of care, integrating Baptist MD Anderson oncology teams with Houston and other partner oncology experts and ensuring quality outcomes for patients and their families.
"It is a great honor to be selected as the medical director for Baptist MD Anderson Cancer Center in Jacksonville, Fla., which will combine the unique clinical expertise and excellent care of Baptist Health with the guidelines, pathways and protocols of The University of Texas MD Anderson Cancer Center," Dr. Putnam said. "An exceptional team of medical oncologists, radiation oncologists, surgeons, and allied staff are available, and others will be recruited, to provide this high-quality cancer care. It will be a great privilege to contribute to this exceptional partnership between the No. 1 hospital system in Jacksonville and the No.1 cancer center in the United States."
Certified by the American Board of Thoracic Surgery and the American Board of Surgery, Dr. Putnam received his undergraduate degree in chemistry with honors, and his medical degree from the University of North Carolina at Chapel Hill, N.C. He completed his surgical internship and junior assistant resident in surgery at Johns Hopkins Hospital in Baltimore, MD. Dr. Putnam spent three years as a medical staff fellow in the Surgery Branch at the National Cancer Institute/National Institutes of Health in Bethesda, MD. He completed his general surgery residency at The University of Rochester School of Medicine and Dentistry in Rochester, N.Y. He completed a residency in cardiothoracic surgery at The University of Michigan (Ann Arbor).
Dr. Putnam has been involved in numerous cancer studies and has extensive experience in a variety of thoracic diseases including lung cancer, esophageal cancer and complex esophageal diseases, pulmonary metastases, benign and malignant pleural diseases and more. He's received numerous excellence awards in healthcare and as a top scoring physician as well as serving in leadership roles on national oncology and thoracic surgery committees.
Baptist MD Anderson will provide adult cancer patients in the northeast Florida and southeast Georgia communities with greater access to the most advanced cancer care available. The cancer center will enhance patient access to MD Anderson's treatment protocols, clinical trials and translational research. The initial home for the program will be on the campus of Baptist Medical Center Jacksonville until a more than 200,000-square-foot building opens in 2018 to accommodate anticipated growth.
###
About Baptist Health
Baptist Health is a faith-based, mission-driven system in Northeast Florida comprised of four adult hospitals -- Baptist Medical Center Jacksonville; Baptist Medical Center Beaches; Baptist Medical Center Nassau; Baptist Medical Center South -- and Wolfson Children's Hospital, the region's only children's hospital. All five Baptist Health hospitals, along with Baptist Home Health Care, have achieved Magnet™ status for excellence in patient care. Baptist Health includes the area's only dedicated heart hospital; comprehensive cancer care including four NAPBC-accredited breast centers; an orthopedic institute; women's services; neurological institute, including comprehensive neurosurgical services, a comprehensive stroke center and two primary stroke centers; a freestanding emergency center for adults and children at Baptist Clay Medical Campus; a Bariatric Center of Excellence; a full range of psychology and psychiatry services; outpatient facilities; urgent care services; and primary and specialty care physicians' offices throughout Northeast Florida. Baptist Health is one of the largest area employers, with more than 9,500 employees. For more details, visit baptistjax.com.
About MD Anderson
The University of Texas MD Anderson Cancer Center in Houston ranks as one of the world's most respected centers focused on cancer patient care, research, education and prevention. The institution's sole mission is to end cancer for patients and their families around the world. MD Anderson is one of only 44 comprehensive cancer centers designated by the National Cancer Institute (NCI). MD Anderson is ranked No. 1 for cancer care in the U.S. News & World Report's "Best Hospitals" survey. It has ranked as one of the nation's top two hospitals since the survey began in 1990, and has ranked first 11 of the past 14 years. MD Anderson receives a cancer center support grant from the NCI of the National Institutes of Health (P30 CA016672).