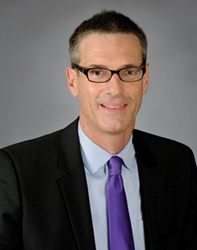 In addition to John's diverse and extensive design background, his global experience brings international creative perspective to our region's infrastructure projects
LOS ANGELES (PRWEB) July 23, 2015
John Trautmann, RA, AIA LEED AP, has joined HNTB Corporation as transit architecture studio leader for the firm's West Division. He brings 25 years of experience in design and design management as a licensed architect that includes all phases of development for a wide range of complex public and private project types, including rail transit and other transportation-related facilities. He is based in the firm's Los Angeles office.
Trautmann provides architectural services for the firm's major public transit projects in the region, including work with Los Angeles County Metropolitan Transportation Authority and the San Diego Association of Governments.
"We are pleased to add John to our architecture leadership team as we continue to grow and meet the needs of clients throughout the west," said Michael Palacios, HNTB Southern California district leader. "In addition to John's diverse and extensive design background, his global experience brings international creative perspective to our region's infrastructure projects."
Prior to joining the firm, he worked for another engineering firm where he led design projects for SANDAG and other California transit agencies.
A licensed architect in California, Trautmann earned a Master of Architecture from Harvard University and a Bachelor of Architecture from Polytechnic State University, San Luis Obispo, California. His professional affiliations include membership in the American Institute of Architects, Women's Transportation Seminar, and the Society of Fellows, American Academy in Rome, Italy.
HNTB is a leader in the California rail and transit industry and has been involved in some of the region's most high-profile, complex infrastructure programs that are reshaping the region, including providing lead design and engineering services for the Crenshaw/LAX Transit Project for the Los Angeles County Metropolitan Transportation Authority.
About HNTB
HNTB Corporation is an employee-owned infrastructure solutions firm serving public and private owners and contractors. HNTB's work in California dates back to its founding in 1914. Today HNTB continues to grow in size and service offerings to clients in California from seven office locations, currently employing more than 350 full-time professionals. With more than a century of service, HNTB understands the life cycle of infrastructure and addresses clients' most complex technical, financial and operational challenges. Professionals nationwide deliver a full range of infrastructure-related services, including award-winning planning, design, program management and construction management. For more information, visit http://www.hntb.com.