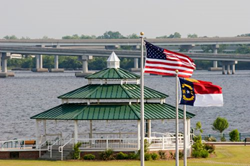 We've long suggested New Bern, NC as a relocation destination to our Baby Boomer clients because of its many positive attributes, so it's no surprise to us that it has been singled out as a desirable retirement destination by this program.
Libertyville, IL (PRWEB) July 23, 2015
Marian Schaffer, Principal and Founder of Southeast Discovery, a real estate consulting firm specializing in guiding Baby Boomers with their real estate needs in the niche markets of retirement relocation and second homes in the Southeast region, recently noted that the June 2015 designation of New Bern by the state of North Carolina as a Certified Retirement Community provides further proof of New Bern's appeal to relocating Boomer retirees. New Bern was officially recognized as a North Carolina Retirement Community by the N.C. Certified Retirement Community Program, a program established by the North Carolina General Assembly to recognize communities that offer an unprecedented quality of living and the infrastructure and amenities sought by retirees.
"We've long suggested New Bern, NC, as a retirement relocation destination for our Baby Boomer clients to consider because of its many positive attributes," said Schaffer, "so it's no surprise to us that it has been singled out as a desirable retirement destination." As Schaffer pointed out, "New Bern has a quaint, historic downtown that has evolved over the years, yet hasn't lost its charm. There are important historical sites like Tryon Palace nearby. Much of the town is set along the water, which is a nice attribute; the Trent and Neuse Rivers converge at New Bern, so there are boating tours and abundant opportunities for sailing and other water-oriented pastimes as well."
Schaffer also cited New Bern's cost of living and convenient location as desirable qualities retirees are searching for. "The cost of living in New Bern is much less than other places near the coast," said Schaffer. "In fact, New Bern was recently cited in a Marketwatch story as one of '10 coastal towns where you can afford to retire.' And New Bern benefits from a wonderful location not too far from North Carolina's Outer Banks, while the thriving historic city of Wilmington is just two hours south. The town also offers access to quality health care, and an airport – two elements that are very important to today's retirees."
New Bern is the 12th N.C. Retirement Community and the second coastal community, along with Edenton, NC, to get the designation. The certification will serve as a marketing tool that allows the city, county and surrounding communities to promote their attractions to people ages 55 and older.
Several master-planned communities in the area have attracted a large number of retirees over the years, including River Dunes, Taberna Country Club, and Carolina Colours. Carolina Colours, situated on 2,000 acres of former timberland ten minutes from New Bern's historic downtown, has attracted retirees from 28 states, and appeals to both the primary home buyer as well as the second home and retirement relocation buyer.
"New Bern is filled with amenities that make it a wonderful place for those relocating at retirement," said Schaffer. "It's a lovely, quaint coastal town, yet offers attributes of a larger city. You'll have access to quality healthcare, varied cultural opportunities, sites of historical significance, and plenty of unique shopping and dining. And the opportunities for outdoor recreation can't be beat, which is especially appealing to today's active retiree – great golf, a beautiful riverfront, boating, fishing and kayaking, and multiple opportunities for biking and hiking – they're all right at your fingertips in New Bern."
About Southeast Discovery
Since 2004, Southeast Discovery has been a trusted resource for candid information and insight on communities, developments, and general real estate in the Southeast. Through its highly-ranked web portal, newsletter and blog and its one-on-one work with clients, Southeast Discovery helps buyers actively looking for a retirement or second home in the Southeast navigate the process of identifying the right area and community for their needs. To learn more, visit http://www.southeastdiscovery.com/.