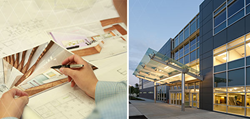 "Managing population health will require ambulatory service expansion across the nation. This is an exciting time for all involved in healthcare - from systems to providers, clinicians to designers." - Fady Barmada, AIA, LEED AP, Lean Six Sigma Green Belt
Philadelphia, PA (PRWEB) July 23, 2015
Ambulatory Care Centers are ideal expansion areas for health systems to provide care outside of their hospitals' walls. Ambulatory services are a critical lynch pin in the development of comprehensive, integrated networks of care that can deliver services cost-effectively and achieve high levels of patient satisfaction. Architects must orchestrate a process that allows for improvements and adjustments to operations while maximizing space utilization and throughput. The current and future trends in ambulatory care underscore the high-growth, high-change nature of ambulatory care facilities and the need for flexible design—now and into the future as they continue to serve more people in more ways. Watch the Ambulatory Series to meet the firm's leaders and experts on ambulatory planning and design.
Delivering the quality they are known for, to a new neighborhood or cachement area, is important in the new era of population health. Multispecialty clinics are becoming more popular where services are rotated with a number of practices sharing the same space. This arrangement allows for increased space utilization, increase integration across specialties, and less capital cost. The expectation is for improved patient outcomes, increased patient satisfaction and greater market share through cross referrals.
Since 1983, Array Architects has been recognized as one of the nation's leaders in the design of healthcare facilities and offers a full complement of knowledge-based services including planning, architecture, interior design and asset advisory services from our seven office locations. Our devotion to a healthcare-exclusive practice springs from our belief in the power of design to improve patient outcomes, maximize operational efficiencies, increase staff satisfaction and provide remarkable results for our clients.