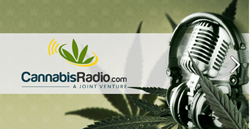 We're excited to join the CannabisRadio family, and to contribute to the network's future as a prominent resource for cannabis information and commentary.
Seattle, WA (PRWEB) July 23, 2015
Ganjapreneur has joined the CannabisRadio.com podcasting network, the website recently announced. The partnership will allow the show to be published more regularly, and will enhance the production and expand the distribution of the podcast.
"We're excited to join the CannabisRadio family, and to contribute to the network's future as a prominent resource for cannabis information and commentary. We will continue to pursue topics and interviews that will bring actionable information to our listeners, to help them grow their businesses and advance their careers," said Noel Abbott, Ganjapreneur's CTO.
Ganjapreneur is a cannabis news hub and business resource for professionals, investors, and business owners in the cannabis industry. Ganjapreneur's podcast launched earlier this year, featuring host Shango Los, cannabis business consultant and founder of the Vashon Island Marijuana Entrepreneurs Alliance. "The increased production quality that CannabisRadio.com provides the podcast is significant. Now, our audience can enjoy our world class cannabis guests with much improved audio," says Los.
The show is intended to educate and inspire "ganjapreneurs," or anyone who is interested in pursuing a career or starting a business in the legal cannabis industry. Previous guests on the Ganjapreneur podcast have included Dr. Ethan Russo, a prominent cannabis researcher formerly employed by GW Pharmaceuticals who discussed Endocannabinoid Deficiency, along with Jeff Church, a hash expert and VP of Research and Process Development at Thinc Pure, who discussed the new hash-making process known as "Rosin Tech," and several others.
As a part of the CannabisRadio.com network, Ganjapreneur's podcast will be featured alongside other cannabis-focused shows hosted by industry celebrities such as Dr. Dina, Mitch Earleywine, and Kyle Kushman, among others. Under the new arrangement, the Ganjapreneur.com podcast will be published weekly, with potential special episodes and possible live broadcasts in the future.
New episodes of Ganjapreneur's podcast can be found on their website, in iTunes, and on CannabisRadio.com. The first episode via CannabisRadio.com features Jerry Whiting of LeBlanc CNE, who discusses high-CBD strains of cannabis and how the CBD medical market differs from the recreational market.
About CannabisRadio.com:
Cannabis Radio is the premier online radio/podcast network building community and delivering radio programming about legal cannabis and other related markets. CannabisRadio.com educates listeners by providing access to the world's leading experts and developing the voices of those with passion, integrity, and the ability to contribute to the fastest growing industry in the recent years.
About Ganjapreneur:
Ganjapreneur launched in July 2014 and has since established a significant presence in the cannabis business world. The website regularly publishes interviews and commentary from leading minds in the industry, and has also launched a B2B business directory, a live feed of job listings from marijuana job boards, a domain name marketplace for start-ups and venture capital firms, and a mobile app for Apple and Android devices which aggregates daily cannabis industry news, business profiles, and other information.