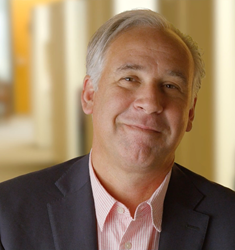 Nashville, TN (PRWEB) July 23, 2015
Jumpstart Foundry today unveiled the full agenda for its inaugural Health:Further event here next month, including a morning keynote session by Paul Kusserow, CEO of Amedisys, Inc.
Kusserow brings to the table the exact mix that Health:Further is driving, which is a unique combination of entrepreneurs and the industry's leading providers, health plans, and health technology companies. It's rare that all four come together in such a way to discuss, debate, and pressure-test the practical application of new ideas and inventions. Jumpstart Foundry believes healthcare is ripe for this concept of inclusive innovation and that no other city is better positioned to deliver on it than Nashville, the nation's healthcare industry capital.
Kusserow, who took the helm as CEO of Amedisys last year, will speak on innovation across the care continuum. Few have been on the inside of more top healthcare companies across a more diverse spectrum of sectors than Kusserow. He brings the unique perspective of large payers and providers, having served prior to Amedisys in various roles at Dallas-based Tenet Healthcare and as SVP and Chief Strategy, Innovations, and Corporate Development Officer at Humana, one of the most innovative Medicare Advantage plans in the world.
In addition, Kusserow has held top leadership and Board positions at health services and IT companies including Alignment Health, Availty, Connecture, New Century Health, AxelaCare Health Solutions, Picwell, and Intel-GE Care Innovations. With background working in leadership roles within provider, health plan, venture fund, and health services companies, Kusserow brings a unique perspective on the intersection of healthcare industry players and the role of entrepreneurship and innovation in advancing new models of care.
Health:Further is being held Aug. 19-20 at the Omni Nashville Hotel. More information and tickets can be found at healthfurther.com.
About Jumpstart Foundry
Jumpstart Foundry (JSF) is a healthcare-focused, mentor-driven accelerator with one simple mission: Make Something Better™. Located in Nashville, Tennessee, JSF is dedicated to being the home of healthcare innovation, helping entrepreneurs make something that truly makes a difference. Our cohort companies receive an investment of $100,000 in exchange for a 7.5% equity stake, and our proven process has graduated 37 companies that have gone on to raise over $23 million in follow-on capital. For more information, visit http://www.jsf.co.