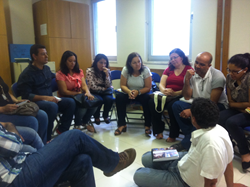 1 in 4 people in Portugal live in Poverty. Interweave Solutions is now providing real solutions that are long term and sustainable.
Provo, UT (PRWEB) July 23, 2015
Interweave Solutions, a US based charity, announces a successful launch of its micro-business training in Portugal.
"One out of every four people in Portugal live in poverty," explains Miguel Ribeiro, Interweave Ambassador in Portugal and Director of Portuguese speaking countries. "It is hidden but the hurt is evident in the lives of the people. We need to learn how to be Entrepreneurs."
The first step towards Entrepreneurship was taken by 12 people in the outskirts of Lisbon on June 9th when Miguel Ribeiro with support from Dean Curtis, Co-Founder of Interweave, launched the first group. The group members participated enthusiastically as they learned of the 6p's of business, made commitments and got to know each other.
The "6 P's" of business are an easy to understand methodology that has successfully been implemented in multiple countries to bring about financial improvement in the lives of tens of thousands of people around the globe.
Interested parties and potential sponsors of the program can learn more here: http://www.interweavesolutions.org/success-in-business
The 6 P's are:
Plan – Steps you need to make your business succeed.
Product – The item or service you sell.
Paperwork – Your income, expenses and goals in writing.
Promotion – How you attract customers.
Price – What you charge for your product or service.
Process – How you create your product and get it to customers.
In addition, members support each other in home and community initiatives, as it is critical to have a well balanced approach in order to create true self reliance in struggling areas.
"Thank you for bringing the program to Portugal!" says Andrea, a business owner of an existing nail salon that has not been keeping records. " I feel like I have hope and support."
The group will meet each Thursday to make their home, business and community plans while holding each other accountable for their weekly commitments.
Interweave Solutions is a US-based 501(c)3 non-profit institution. Additional corporate and individual sponsors are required to keep the work moving forward around the globe. 100% of donations are used to provide materials and training to recipients, due to a generous on-going contribution from an anonymous donor that covers all administrative costs.
Interested parties can learn more here:
http://www.interweavesolutions.org/get-involved