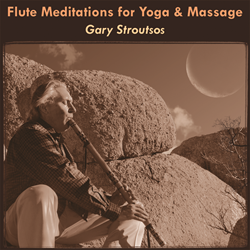 "As improvisers, we challenge ourselves to explore new sounds to imagine, new feelings to embrace. Bringing music to life for new listeners is part of my vision of my own work, because music touches the soul..."
Boulder, Colorado (PRWEB) July 28, 2015
Master flutist and solo artist Gary Stroutsos shares his deep resume of timeless flute music, with inspiration taken from influences around the world, in this collection of serene, restorative instrumental music. Tracks carefully curated by White Swan producer Dubgoddess Selena provide deeply relaxing backgrounds for sleep, for yoga practice, for body work and more -- to help the listener deeply breathe in a healing inner light for the soul.
Originally trained as a jazz flutist (studying with jazz master flutist James Newton and Afro-Cuban master Danilo Lozano), the Seattle-based Vermont native has spent decades studying and performing world flute styles drawn from traditional cultures, working with elders and forging a unique sound all his own. His work features American Indian music as well as Chinese, Cuban and American stylings that reflect his diverse influences. Evoking a spirit of place and the voices of the land, Gary's work includes internationally-acclaimed recordings at sacred sites, using the unique acoustics and history of each great space as the starting point for musical exploration -- a shared moment in a timeless place, where flute melodies both ancestral and modern play off one another and songs come alive, buoying and breathing through the generations.
"I have been blessed with taking care of so many old songs from so many world cultures, that reflect many of the songs you will hear on this release. The collection includes many deep traditions of music not my own," says Stroutsos.
It is rare for a flute artist to record so many unique and different-sounding flutes on one recording. Gary uses his Alto silver concert flute (Paul Horn's favorite) and a concert silver bass flute, as well as a haunting Southwestern desert cedar-rimmed flute. The cedar-rim was replicated by flute maker Michael Allen, from original measurements of the oldest wooden instruments ever found intact, dating from over two millennia ago in northern Arizona. Gary also plays the bamboo Xiao flute, which is seldom heard outside of China, as well as traditionally-hewn American Indian Northern Plains cedar flutes, various hand-crafted contemporary clay aerophones and whistles.
All the music on Flute Meditations for Yoga & Massage is organic and played by real musicians with spirit; Stroutsos is a master of playing music from the heart, both solo and in spirited collaboration. Guest players on the album include acclaimed pianist David Lanz, percussion ace Glen Velez, composer Jon Serrie, American koto master Liz Falconer, and clay udu drum percussionist David Revelli.
Stroutsos continues, "As improvisers, we challenge ourselves to explore new sounds to imagine, new feelings to embrace. Bringing music to life for new listeners is part of my vision of my own work, because music touches the soul, making it our true universal means of communication. Please take your time and listen to these tracks in a peaceful manner; these are not just background music, but tracks selected for deep meditation, sleep, and overall stillness." In his 30+ recordings -- including many made on location from the northern plains of the Dakotas, to the canyon lands of the Southwest, to the shores of the Pacific Coast -- the woodwind master has created a body of work which expresses his passion for universal expression: music without borders.
Stroutsos has brought his music and stories to audiences throughout North America, as well as in Japan and Korea. His most recent soundtrack work is currently featured nationally on the award-winning PBS series Desert Dreams by filmmaker Thomas Wiewandt. His music has been heard on the soundtrack of Ken Burns' Lewis and Clark: Journey of the Corps of Discovery, which led to a command performance at the White House for President Bill Clinton. His work has also been showcased on Jan Nickman's Living Temples, on NPR broadcasts, New York Evening at the Pops, and the nationally syndicated radio program Echoes.
One of Stroutsos' mentors and main inspirations, the groundbreaking innovator Paul Horn, passed away last year at the age of 84. Gary Stroutsos dedicates this new collection of music to Horn, whose flame Gary promised to keep burning bright. Twenty evocative tracks showcase the finely-honed talent of another master player through whose decades of work Horn's legacy shines strongly.
Flute Meditations for Yoga & Massage will be released by Boulder's White Swan Records in digital-only format on August 14th.
# # # #
Track Listing
1. Sea of Serenity: Calming Music for Yoga
2. Monastery Without Walls: Spa Music
3. Zen Beach: Meditative Flute
4. Dharma: Sleep Music
5. Night Sky: Music for Relaxation
6. Sacred Earth: Relaxing Spa Music
7. Temple of Heaven: Music for Spa
8. Crescent Moon: Flute Meditations
9. I Know the Trees: Massage Meditations
10. Afternoon Wave: Massage Music
11. Hymn to Tranquility: Meditative Spa Music
12. Pueblo - EDIT: Meditative Yoga Music
13. Shadow Warrior: Calming Spa Music
14. Silent Wave: Relaxing Sleep Music
15. Where Angels Worship: Calm Yoga Music
16. Silent Angel: Calming Sleep Music
17. Honest Heart: Sleep Music Meditations
18. River of Life: Relaxing Yoga Music
19. Fourth World: Calming Yoga Meditations
20. Dawn: Relaxing Massage & Spa Music