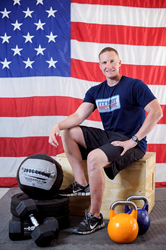 The obesity epidemic is sweeping the nation and I want to provide as many people as possible with a positive, motivating, non-intimidating environment
Tempe, Ariz. (PRWEB) July 24, 2015
Owner Benjamin Jones will host a Grand Opening ceremony on August 15, 2015 at his new location, 7425 S Harl Ave #4, Tempe, Ariz. After opening his previous Fit Body Boot Camp location in Mesa, Jones hopes to expand his mission of community health and fighting obesity throughout the state.
"In the one year that Mesa Fit Body Boot Camp has been open there has been almost 2,000 pounds of fat lost from all of our members," said Jones. "My personal goal is to help the residents of Arizona lose 100,000 pounds of fat over the next five years. The obesity epidemic is sweeping the nation and I want to provide as many people as possible with a positive, motivating, non-intimidating environment where they can change their lives."
Fit Body Boot Camp is the world's fastest growing and most popular indoor fitness boot camp brand, with hundreds of locations worldwide. The boot camp's unique brand of fitness combines individualized personal training from licensed professionals, clinically proven Afterburn workouts, and nutritional guidance to guarantee weight loss results.
In keeping with his commitment to community health, Jones has set a goal of $15,000 to be raised for Sierra Guyton's leukemia treatment. Guyton, a local teen who was diagnosed in March of this year, has reached out to the community to help her with the heavy costs of cancer treatment. With the help of her family, she has built a social media campaign around the hashtag #GUYTONSTRONG. Jones described her as a "local hero to many" and a "top player in the East Valley Juniors Volleyball Club.
"Changing people's lives is what we do and helping Sierra is just one more way we can have a lasting impact," he added.
Half of all proceeds from the event will go to Guyton's treatment. Additionally, sponsor Ideal Image will auction off an underarm hair removal package and donate all proceeds to her treatment.
About Tempe Fit Body Boot Camp:
Tempe Fit Body Boot Camp is a part of the Fit Body Boot Camp family of indoor fitness boot camps, whose global goal is to engage 20% of the world's population in a healthy and fit lifestyle by the year 2020. Tempe Fit Body Boot Camp is owned and operated by Benjamin Jones. Jones is committed to helping members of the Tempe-Ahwatukee community set and accomplish their own health and fitness goals.
For more information about Tempe Fit Body Boot Camp, please contact:
info(at)fitbodytempe(dot)com
Visit their website at:
http://www.fitbodybootcamp.com/tempefitnessbootcamp/
Or their Facebook page at:
https://www.facebook.com/pages/Tempe-Fit-Body-Boot-Camp/1582024215383067