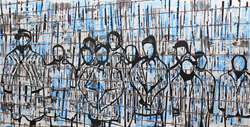 "I've been haunted by this photograph for some time and through painting "Liberation" I found my own liberation in thought about the cruelty and beauty of life." - Stewart Stephenson
Vancouver, B.C. (PRWEB) July 23, 2015
Stewart Stephenson Announces "Liberation"
International contemporary artist, Stewart Stephenson announces immediate availability of "Liberation," an interpretive painting of the Children Liberated from the Auschwitz Nazi Concentration Camp in 1945.
To commemorate the 70th anniversary of the Liberation of the Children of the Auschwitz Nazi Concentration Camp, International Contemporary Artist Stewart Stephenson has created an interpretative large scale painting entitled "Liberation." This is an impeccable and powerful work of art that communicates on a profound level. Stewart's inspiration is derived from a 1945 photograph depicting 12 Children behind a barbed wire fence at Auschwitz taken by a Russian solider while liberating the prisoners of Auschwitz. Stewart feels passionately about events that have shaped the way we view and live in the world today.
"These defining moments in history need to be celebrated and grieved. The survivors will to endure unmentionable cruelty and keep living is simply extraordinary. I've been haunted by this photograph and these children's story for some time, and through painting "Liberation" I found my own liberation in thought about the cruelty and beauty of life." - Stewart Stephenson
"Liberation" is available for acquisition or exhibition.
"Liberation," 2015, Stewart Stephenson
72 in x 144 in / 183 cm x 366 cm
Stretched canvas on frame
About Stewart Stephenson:
Stewart Stephenson burst onto the Vancouver art scene in 2011, quickly becoming one of Canada's best selling artists. A pioneering self-taught artist, he specializes in large scale abstract artwork known widely for their unique compositions, vivid colours and impeccable finishes. Stewart's paintings can be found in private and corporate art collections around the world. His paintings are complex compositions, which are expressive, bold and full of hidden symbolism.
To learn more about the painting "Liberation," and the Artist please visit us here:
For more information please contact:
Kelsey Hourigan
Stewart Stephenson Fine Art Studio
Studio Manager
1063 Hamilton St.
Vancouver, B.C. Canada V6B 5T4 604-983-7841
info(at)stewartstephenson(dot)com