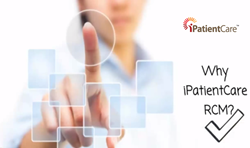 Add top-notch billing expertise, vibrant back-office working 24 x 5, and KPI dashboard and numerous reports with a robust EHR… and you have got the best RCM services at the most cost-effective rates," saidArnaz Bharucha, STO, iPatientCare
Woodbridge, NJ (PRWEB) July 24, 2015
iPatientCare, Inc., a pioneer in mHealth and cloud-based ambulatory EHR and integrated practice management solutions, received an overwhelming response on the performance of iPatientCare Revenue Cycle Management services from all the providers who recently migrated from technology-only model to value based RCM services. They have started observing decreasing rejection ratio and enhanced billing cycle as a result.
Focusing on iPatientCare's clear vision and based on the observations of financial advisors and analysts, the company has developed its strategy to promote value-added services of RCM/Billing and Quality Improvement Consulting which are extremely intriguing and worth observing.
Medical practices who have recently switched to iPatientCare RCM services after essentially low rates, just 3.9% of monthly collections, has proved to be a wonderful change altogether. Charging base expense, reduced days in A/R, 360 degree perspective of practice money related execution utilizing iPatientCare dashboards and reports, enhanced denial resolution and maximized cash flows, in addition to the astounding EHR and integrated products and services for nothing, all the practices seem to be very much astonished with the output they have received in these initial months itself.
"We use iPatientCare for medical billing. They are reliable, the staff is knowledgeable, and they help in addressing the day-to-day bill and receiving issues we all face in practice. The staff is very efficient, responsible and courteous, their attention to detail is good. Our account receivables have remained manageable and their integrated software has helped us to keep track of money owed by payers and patients when they come to see us at the office." – K. Ramesh Reddy, MD
"iPatientCare has succeeded due to its user-friendly and functionally the best EHR and integrated Practice Management, Patient Portal and Secure Direct Address for e-referrals which are needed as a base technology for the MU Stage 2. Add top-notch billing expertise, vibrant back-office working 24 x 5, and KPI dashboard and numerous reports… and you have got the best RCM services at the most cost-effective rates," pitched Arnaz Bharucha, Senior Technology Officer, iPatientCare.
About iPatientCare, Inc.
iPatientCare, Inc. is a privately held medical informatics company based at Woodbridge, New Jersey. The company's unified product suite includes Electronic Health/Medical Record and integrated Practice Management/Billing System, Patient Portal/PHR, Health Information Exchange (HIE), and Mobile Point-of-Care Solutions for both Ambulatory and Acute/Sub-acute market segments. iPatientCare has been recognized as a preferred MU partner by numerous Regional Extension Centers (REC), hospitals/health systems and academies, and has been designated as a Test EHR by the CMS.
iPatientCare EHR 2014 (2.0) has received 2014 Edition Ambulatory Complete EHR certification by ICSA Labs, an Office of the National Coordinator-Authorized Certification Body (ONC-ACB), in accordance with the applicable eligible professional certification criteria adopted by the Secretary of Health and Human Services (HHS).
Full certification details can be found at ONC Certified Health IT Product List.
IPatientCare Inpatient EHR 2014 (2.0) Received ONC HIT 2014 Edition Complete EHR Certification from ICSA Labs, determines ability to support eligible hospitals with meeting meaningful use stage 1 and stage 2 measures required to qualify for ONC Health IT funding under the American Recovery and Reinvestment Act (ARRA).
Full certification details can be found at ONC Certified Health IT Product List.
The ONC 2014 Edition criteria support both Stage 1 and 2 Meaningful Use measures required to qualify eligible providers and hospitals for funding under the American Recovery and Reinvestment Act (ARRA).
Visit http://www.iPatientCare.com for more information.