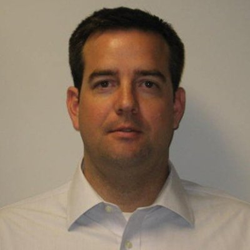 Having been involved in the commercialization of many NDT inspection tools...I believe strongly in the value proposition that AcousticEye's technology is offering as an entirely new NDT method...
Houston, TX, USA (PRWEB) July 27, 2015
AcousticEye, an innovator of non-traversing tube and pipe inspection technology for the global NDT (non-destructive testing) market, today announced that Mr. Matt Skinner, a veteran NDT technical sales professional, has joined the company as North American Sales Director.
Mr. Skinner has been involved in NDT equipment sales for the past 14 years. His experience includes positions as Western Regional Sales Manager and National Sales Manager for Advanced Products at Olympus NDT and, most recently, Global Account Manager at GE Oil & Gas.
"It's an honor to be part of the NDT community. I'm very passionate about our industry's ultimate goal of making our world a safer place", said Mr. Skinner. "Having been involved in the commercialization of many NDT inspection tools over the years, I believe strongly in the value proposition that AcousticEye's technology is offering as an entirely new NDT method and I look forward to contributing to its success."
Mr. John T. Iman, AcousticEye's General Manager for North America, said: "Matt is a hands-on manager that is deeply committed and motivated to deliver solutions to customers that not only make the right business sense, but are also solid performers technically. As part of our growing North American team, we look forward to Matt's key role in expanding the scope and value of our business for the NDT industry."
About AcousticEye
AcousticEye Ltd. is a pioneer in non-traversing tube and pipe inspection for the global non-destructive testing (NDT) industry. Based on patented dual mode pulse reflectometry technology (acoustic and ultrasonic operating in parallel), the new DUET™ system is a breakthrough in accurate testing at a fraction of typical inspection cycle times and with more coverage. Targeting the billions of tubes and pipes being inspected and maintained annually, AcousticEye delivers an exceptional value proposition for applications in the oil and gas, power generation, chemical and other adjacent markets. The Company's innovative technology solutions are utilized by inspection service providers and end users worldwide. http://www.acousticeye.com