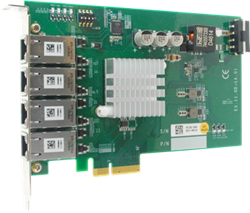 World's First Server-Grade Gigabit NIC with PoE+
Taipei, Taiwan (PRWEB) July 23, 2015
Neousys Technology, Inc. Introduced the PCIe-PoE354at, a 4-port server-grade Gigabit 802.3at PoE+ frame grabber card. It exploits the cutting-edge Intel® I350 GigE controller to deliver server-grade Ethernet performance. Inheriting Neousys' expertise in PoE technology, PCIe-PoE354at possesses four IEEE 802.3at PoE+ ports. Each can supply up to 25.5W power to its connected PoE PD device, such as industrial GigE camera, WIFI AP and surveillance IP cam.
"This server-grade NIC demonstrates a very stable sustained data throughput of well over 930 Mb/s, while its advanced features, such as interrupt moderation and checksum/segmentation offloading, significantly reduce the CPU utilization. On a performance test with four GigE cameras, PCIe-PoE354at showed 40% less CPU usage compared to another PoE frame grabber implemented with four individual industrial-grade Intel® 82574L controller."
PCIe-PoE354at additionally implements a unique feature of per-port on/off control. Via Neousys' provided API, users can turn on or cut off the supplied power on each PoE port for for fault-recovery or device power reset purpose. It supports eight pieces of PCIe-PoE354at installed in single system, benefiting you to fully control up to 32 devices for your machine vision or surveillance applications. For more information, please visit: http://www.neousys-tech.com/.
Intel® is the registered trademark of Intel Corporation in the United States and other countries
About Neousys
Neousys Technology Inc., established in 2010, designs and manufactures rugged embedded platforms and modules.
With the core expertise ranging from embedded computing to data acquisition and processing, our goal is to innovate and integrate feature sets into products for various vertical markets with simple yet elegant architecture.
Neousys offers application-oriented platforms in the following categories:

Wide-temperature & rugged embedded fanless computer
Machine vision platforms with multiple GigE/PoE ports
In-vehicle fanless PC
Ultra compact fanless controller
Surveillance/video analytics computer system
# # #
Media Contact:
Chris Ni
Product Director
Neousys Technology Inc.
Phone: +886 2-2223-6182 ext 300
Email: chris(dot)ni(at)neousys-tech(dot)com