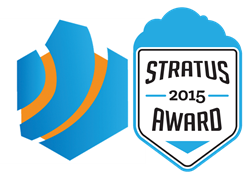 ComputeNext's model flies in the face of traditional cloud IT services and attracted the attention of The Business Intelligence Group.
Bellevue, WA (PRWEB) July 23, 2015
ComputeNext, a cloud brokerage platform and marketplace software provider, today announced winning the 2015 Stratus Award for being Cloud Disruptor of the Year. This award, given by the Business Intelligence Group, recognizes companies, executives, and their services whose innovative approaches are helping to accelerate the development and adoption of the cloud in consumer and business markets.
ComputeNext's Global Cloud Marketplace is a platform that enables cloud service commerce, provisioning, and management from providers in over 60 locations worldwide, from a single user account or API. This platform is also available as a white-label solution which can be offered as a Marketplace-as-a-Service or a custom deployment for telcos, data centers, service providers, and large IT resellers/distributors. The platform can be rapidly deployed and customized for partners based on the cloud platforms, products, and services they wish to offer.
ComputeNext's model flies in the face of traditional cloud IT services and attracted the attention of The Business Intelligence Group.
"We are so proud that our judges awarded ComputeNext with a 2015 Stratus Award," said Russ Fordyce, Managing Director of the Business Intelligence Group. "It is clear that their performance and innovation has accelerated the adoption of the cloud. Congratulations to the entire team."
The Business Intelligence Group launched the first crowd-sourced industry awards programs to recognize authentic talent and superior performances in the business world. Unlike other award programs, the Business Intelligence Group's programs invite real business people with experience and knowledge to volunteer as judges. The organization's proprietary and unique scoring system selectively measures performance across multiple business domains and rewards companies whose achievements stand above those of their peers.
"ComputeNext's mission is to make it easier for organizations of all sizes to select, purchase and configure cloud services directly from our marketplace, and this award is a testament to the hard work of our entire team," said Sundar Kannan, founder and CEO of ComputeNext. "It is always rewarding to be acknowledged for our solutions that help our customers to buy cloud services and infrastructure in a simplified and streamlined way, and we thank the Cloud World Series Awards for this honor."
About ComputeNext:
ComputeNext is a Bellevue, WA-based cloud brokerage company pioneering how organizations search, discover, procure, and provision cloud infrastructure with its Cloud Marketplace Platform. As a leader in cloud service brokerage, ComputeNext enables end-to-end transactions across platform-agnostic infrastructure. Holding the belief that a few cloud providers cannot satisfy the world's computing demands, our mission is to promote choice and efficient computing through federation. This new ecosystem shares and optimizes cloud infrastructure and services to bring unprecedented business development opportunities and cost savings for both data centers and IT organizations.