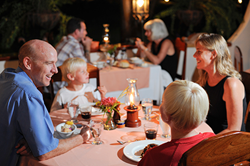 Thanksgiving becomes just that – a vacation; and one that everyone can enjoy, with mom relaxing around the pool instead of bustling around the kitchen.
San Ignacio, Belize (PRWEB) July 25, 2015
The Lodge at Chaa Creek has begun accepting bookings for their annual Belizean Thanksgiving Vacation package, and after last year's enthusiastic response to the rainforest adventure feast, the popular eco resort's food and beverage manager is encouraging people to book now to ensure a place at the table.
Bryony Bradley said the annual Belizean Thanksgiving's combination of the exotic and familiar has struck a chord with people who are looking to share new experiences while still enjoying the things that make the holiday special.
"We're seeing a growing trend where families and couples are using traditional holidays such as Thanksgiving to share new experiences and adventures together. I think that in today's busy world, time is becoming more precious, and people want to get the most out of their time together over the holidays.
"And Belize, being so easy to reach from North America, and having its own tradition of celebrating Thanksgiving with turkeys and all the familiar trimmings, is becoming more attractive each year," she said.
Ms Bradley said that this year Chaa Creek is offering a minimum three day all-inclusive Belize Thanksgiving vacation package that includes luxury accommodation, all meals, including a special candlelit Thanksgiving dinner, and a range of healthy activities including horseback riding, canoeing along the Macal River, guided tours and nature walks, swimming, morning bird watching walks and more.
"It's a real smorgasbord of both food and activities, and, as with all our all-inclusive Belize vacation packages, everything is taken care of from the moment we pick guests up at Belize's international airport until we drop them back off. Absolutely everything for a complete vacation is included for one surprisingly affordable set price, meaning there's nothing else to plan, pay for or worry about.
"People can just relax and enjoy each other's company in beautiful surroundings while enjoying some exquisite dining and partaking in fun, healthy activities that take the guilt out of indulging," she said.
Ms Bradley explained that that while traditional Thanksgiving fare such as roast turkey with mashed potatoes and gravy, sweet potatoes, pies and the usual accompaniments will be on offer along with vegetarian dishes, guests will also be able to sample award-winning Chef Mario Alejandro Mendez's Maya influenced cuisine.
"Many people don't realise that turkey is a Maya staple that has been enjoyed for thousands of years here in Belize. So while our guests are savouring a traditional turkey dinner with all the usual trimmings, they'll also be able to taste a Maya version and be part of another tradition that stretches back over centuries," she said.
"It's that combination of cultures and the familiar mixed with the exotic that our guests find so interesting and satisfying," Ms Bradley added.
Ms Bradley admitted that her family, which started Chaa Creek as a family farm over thirty years ago, was initially surprised with how popular their Thanksgiving feasts had become.
"Back when Chaa Creek was still a small farm, we always celebrated Thanksgiving together and would invite our neighbours, many of whom are of Maya descent, and they would bring tamales and other dishes to share. When we opened as an eco-resort in 1981 we'd invite our guests to Thanksgiving as well, and now it's this great, multicultural annual event we all look forward to," she said.
Ms Bradley added that many guests are finding that a Belizean Thanksgiving at Chaa Creek is also a time and cost-effective way to enjoy the holiday.
"These days, hosting Thanksgiving at home can really add up, both in time and money. By the time you shop and prepare all those things that everyone likes, and try to entertain at the same time, it can become pretty draining, both physically and financially.
"With an all-inclusive Thanksgiving vacation at Chaa Creek, Thanksgiving becomes just that – a vacation; and one that everyone can enjoy, with mom relaxing around the infinity pool instead of bustling around the kitchen. And since most of our ingredients come fresh from our onsite Maya organic farm, she can be assured that the lavish meals are as healthy as the outdoor activities are," Ms Bradley said.
Ms Bradley cautioned that, as space is limited for the all-inclusive Belize Thanksgiving vacation package, interested parties should contact Chaa Creek as early as possible, directly or through their travel agents for more details and booking information.
"We're looking forward to hosting another holiday that everyone will be truly thankful for," she said.
The Lodge at Chaa Creek is a multi award winning eco resort set within a 365-acre private nature reserve along the banks of the Macal River in Belize.
ENDS