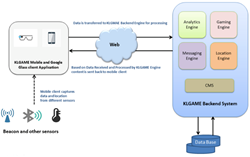 Santa Clara, CA, USA (PRWEB) July 24, 2015
Utilizing its global presence to augment its initiative to foster technology forward, Kellton Tech has sponsored and developed the Indian Institutes of Technology – Global Leadership Conference 2015 (IIT GLC 2015) mobile app for both iOS and Android platforms. The app has been developed pro-bono for the event that started in Santa Clara, CA, USA on the 23rd of July. The event that would continue till the 25th July and is being attended by over 4000 attendees. Interestingly, it is one of the world's first iBeacon powered conference apps that will be supporting a conference having a massive number of attendees.
The conference, organized by PanIIT Inc. – a US based not-for-profit organization, aims to connect thousands of IITians scattered globally, discuss what is hot and happening in the circuit and celebrate their success on an annual basis. Though networking is the heart of the event, great emphasis is also laid upon generating innovative ideas to conceive the future roadmap of technology. Besides being official App sponsor, Kellton Tech is also one of the silver sponsors of the event. Google, Deloitte, Amazon, Flipkart, Accenture etc. are some of the other sponsors.
The app developed exclusively for the conference is an attempt to leverage networking through mobile - before, during and after the event. Apart from facilitating networking between the attendees, the app also features a number of unique and interesting functionalities. It allows users to follow their favorite attendees and track their fellow class mates. It enables real-time notifications by the use of beacon proximity. With the help of the app, users can shoot their questions in real-time to the selected panel of speakers and also vote for their peers for best questions in each panel.
The app also helps users remain informed about important announcements and sessions based on their interest. Bookmarking and saving sessions in users' calendar is another feature of the app. This feature helps the users plan their schedule ahead of time. A great functionality that the mobile app provides is instant messaging, i.e. users can chat with fellow attendees or class-mates using the app. Needless to say, IIT GLC mobile app is tailor-made to provide seamless integration with social media to facilitate social sharing along with other innovative features.
One of the most popular features of the app is a Real Time iBeacon based Scavenger Hunt game that will be played live at the conference venue. The winners would be awarded attractive prizes. Built upon Kellton Tech's KLGAME Platform, Scavenger Hunt is a true convergence of Mobile, Location, Gamification and Push Notification technologies into a single engaging functional application.
About the IIT Global Leadership Conferences
IIT Global Leadership conferences are organized by PanIIT Inc., a US based not-for-profit organization comprised of the alumni from the Indian Institutes of Technology (IITs). Since 2003, these GLCs have been organized by volunteer IIT alumni (IITians) and are held in the USA and India alternatively during odd and even years, respectively. These sell out conferences have had iconic speakers such as Bill Gates and President Bill Clinton to name a few.
IIT GLC 2015 is being held on July 24 and 25, 2015 at the Santa Clara Convention Centre, Santa Clara, California. The core theme of this year's conference is 'The Internet of People.' Just as the Internet connects computers or things, the2015 IIT Global Leadership Conference connects people (very bright people). The Internet of People (IoP), brings together 4,000 of the best minds, both IITian and non-IITian, to present futuristic advances in science and technology, share secrets to entrepreneurial success and encourage giving back to the community.
About Kellton Tech Solutions Ltd.
Kellton Tech Solutions Limited is a public listed (BSE: KELLTONTEC), CMMi Level 3 and ISO 9001:2008 certified global IT services organization. It is headquartered in Hyderabad, USA and has offices in Cupertino, McLean, New Brunswick in US and Gurgaon, Lucknow and Noida in India. For two innovative decades, Kellton Tech has put into practice the vision upon which it was founded viz. "to offer infinite possibilities with technology". The company provides end-to-end IT solutions, strategic technology consulting, and offshore product development services.
Kellton Tech serves a full gamut of customers including small & medium companies, enterprise companies, and Fortune 500 businesses. Kellton Tech is committed to ideate, innovate and create a technologically smarter world. It has been doing this by innovating modern technologies that change businesses.
Kellton Tech's works on mobile apps (even before iPhone was launched), Augmented Reality, iBeacons, wearables, BLE 4.0, IoT and very recent KLGAME are parts of this. The organization has serviced customers representing a wide range of verticals including retail, travel, e-commerce, education, hospitality, advertising, market research, manufacturing, consumer goods, logistics, supply chain management and non-profit. Kellton Tech is also a global leader in providing enterprise grade solutions in Web. SMAC (Social, Mobile, Analytics, Cloud), ERP-EAI and Internet of Things (IoT).