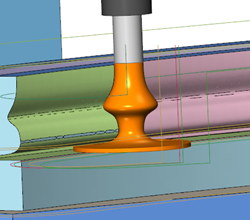 Clearwater, Florida (PRWEB) July 23, 2015
BobCAD-CAM, Inc., a world leader in powerful and affordable CAD-CAM software, announces the all-new Version 28 software's full compatibility with all custom & specialty milling and turning tool shapes for simulations.
Manufacturers in a wide variety of industries utilize custom tool shapes and specialized tooling in order to machine their jobs quicker and more accurately with fewer cuts. This is especially prevalent in many woodworking industries, metalworking shops, and mold manufacturing. Many manufacturers rely on their custom and specialty tooling to operate at a profitable level.
The BobCAD-CAM Version 28 (V28) software gives users the ability to draw the half profile of their rotating milling tool and define multiple cutting surfaces on the tool, if applicable. Previous versions of BobCAD-CAM software allowed users to program with their custom or specialty tooling but now V28 offers users the ability to accurately simulate jobs using these types of tools. Users can visually inspect and confirm their CNC programming within the all-new simulation interface, which is also included as part of the new BobCAD-CAM V28 release.
The ability to use and simulate custom shaped and specialty milling tools adds to the software's existing capabilities that allow users to define and simulate custom shaped lathe tools and inserts. With this release, BobCAD-CAM software now fully supports the use of any custom and specialty shaped tools for CNC mill and lathe machine simulations. These capabilities are also supported on mill turn / multitasking CNC machine simulations as the company also launched a brand new Mill Turn CAD-CAM module alongside the release of the V28 software.
Availability
Demos of the new Version 28 and Mill Turn module are available now for immediate download from BobCAD.com. The software can also be purchased from company's product page BobCAD.com/cad-cam-software-products/. For more detailed information about V28 product features, visit http://bobcad.com/products/the-new-bobcad-cam-v28-cnc-cad-cam-programming-software/ or call 877-262-2231 or 727-442-3554 to speak with a BobCAD-CAM representative.
About BobCAD-CAM, Inc.
Clearwater, FL | http://www.BobCAD.com
For 30 years, BobCAD-CAM has been dedicated to designing powerful, user-friendly and affordable CAD-CAM software. BobCAD-CAM products are used in CNC machine shops and schools all over the world - helping to automate the programming process for mill, mill turn, lathe, router, plasma, laser, waterjet, and wire EDM CNC machines. The company also offers solutions for CAD, artistic CAD, nesting, solid machine simulation, custom post processors, comprehensive training, and support packages.