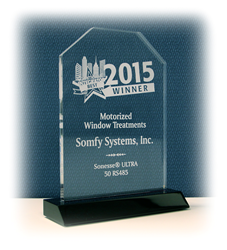 "We're proud to have the Sonesse ULTRA 50 recognized for its superior performance and innovation."
Dayton, New Jersey (PRWEB) July 28, 2015
Somfy Systems, Inc., the world's largest manufacturer of ultra quiet, ultra powerful tubular motors for interior and exterior window coverings, is honored to receive the Commercial Integrator BEST award for the powerful and incredibly quiet Sonesse® ULTRA 50 motor. Packed with innovation, the Sonesse ULTRA 50 provides up to 6 Nm of torque and acoustic performance of less than 38 Db, making it the quietest and most powerful motor for the interior shade or screen markets.
"We're proud to have the Sonesse ULTRA 50 recognized for its superior performance and innovation," said Tom Murphy, Chief Operating Officer of Somfy North America. "The combination of strong performance and quiet operation makes this motor perfect for both residential and commercial projects."
The Sonesse ULTRA 50 can motorize all types of interior shades, screens or blinds. This motor is available in multiple control technologies including RS485, Radio Technology Somfy®(RTS) and standard wired control, which offers exceptional control option flexibility. Control flexibility allows the motor to be installed in almost any interior application on the market.
The high torque also allows a single Sonesse ULTRA 50 motor to operate up to six interior shades together in coupled shade applications. Available for all types of spatial configurations in commercial and residential buildings in both new and renovated projects, the Sonesse ULTRA 50 has the ability to satisfy the needs of a demanding market.
The Commercial Integrator BEST Awards program recognizes noteworthy solutions for the integration market. The winners of the BEST Awards are chosen by a panel of industry experts, integrators and the editors of Commercial Integrator and judged on categories such as innovation, creativity, and business benefits. The winners were announced at an awards ceremony as part of InfoComm 2015.
Click here to learn more information about the Sonesse ULTRA 50.
About Somfy Systems, Inc.
Somfy, the global leader in the manufacturing of strong, quiet motors with electronic and app controls for both interior and exterior window coverings, has North American headquarters located in Dayton, NJ. Over 270 million users worldwide enjoy the more than 150 million motors Somfy has produced since 1980. During the past 40+ years, Somfy engineers have designed products for both commercial and residential markets to motorize window coverings such as interior shades, wood blinds, draperies, awnings, rolling shutters, exterior solar screens and projection screens. Somfy motorization systems are easily integrated with security, HVAC and lighting systems providing total home or building automation. For more information, visit http://www.somfysystems.com