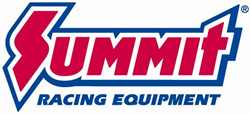 Tallmadge, OH (PRWEB) July 30, 2015
Jeep Wranglers are often upgraded with big wheels and tires, lift kits, and cold air intakes. Summit Racing now carries Hypertech's Max Energy Power Programmer for Jeep Wrangler that gives Jeep owners the ability to manipulate the vehicle's ECU to optimize the performance of aftermarket modifications.
PowerNation TV's Truck Tech team used a Hypertech Max Energy Power Programmer to complement an intake and exhaust upgrade on its Jeep Wrangler JK Unlimited. Watch the full episode.
Hypertech's Max Energy Power Programmer can adjust a vehicle's fuel maps to improve horsepower, torque, and fuel economy—which is really handy for a Jeep equipped with heavy wheels and tires, steel bumpers, or a winch. If a Jeep's been fitted with larger diameter tires, the programmer can adjust the speedometer to ensure an accurate reading. Off roaders will appreciate the ability to set a lower thermostat threshold for electric fan operation. The programmer can also manipulate automatic transmission shift points.
As an added bonus, Hypertech's Max Energy Power Programmer serves a diagnostic scan tool and will clear trouble codes. Owners can easily revert to the stock vehicle ECU configuration, if necessary.
The Hypertech Max Energy Power Programmer for 2004-10 Jeep Wrangler is emissions-legal in California (CARB EO Number D-260-15).
Summit Racing carries Hypertech Max Energy Power Programmers for many Chevy/GMC, Ford, and Dodge vehicles as well.
Summit Racing Equipment
SummitRacing.com
1-800-230-3030