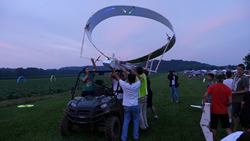 It was a blast to see so many people involved with the Giant Circle-Winged RC Airplane as well as all of the pilots who joined in on the fun and attempted to go through the ringed wing.
MALVERN, OH (PRWEB) July 23, 2015
Flite Test, LLC, a Lauren International company, recently hosted the second annual Flite Fest near Malvern, Ohio. The event, held July 9-12, featured countless radio-controlled (R/C) planes and multirotors. Thousands of spectators, RC pilots, volunteers and vendors enthusiastically flocked to Furey Field to join the North Canton-based YouTube sensation Flite Test for four days of family fun, flight and fellowship.
"The welcoming, family-friendly atmosphere of Flite Fest draws thousands of people every year, and we are thrilled that the festival is having a positive impact here in Northeastern Ohio," said Lauren International CEO Kevin Gray. "I'm extremely proud of the entire Flite Test team, volunteers and the community for putting together such an outstanding event."
Flite Fest 2015 continued the success from last year's inaugural Festival of Flight. Over 4,000 spectators from 47 states and 12 countries joined the 963 registered pilots in group builds, in-air R/C combat exhibitions, FPV (First Person View) races and several community flying events over the four-day event. In the spirit of Flite Test's mission of Entertaining, Educating and Elevating the World of Flight, attendees shared their passion, knowledge and experiences during what has been called a family reunion for the R/C aircraft community.
A sea of RV's, cars and tents graced Furey Field for the festival, which included over a dozen R/C vendors and a special Flight Simulator station provided by the Academy of Model Aeronautics (AMA). Flite Fest 2015 featured two large build tents with ample tools and supplies for attendees to build aircraft as well as repair planes damaged during the various combat events.
"The best part about Flite Test is the community that has grown around it," said Thomas Walter, a Flite Fest volunteer from Münster, Germany. "Even a few hours of bad weather didn't stop anyone from having fun. Experiencing this festival and meeting online friends in person was well worth a trip all the way from Germany."
Evenings at Flite Fest evoked the family-friendly atmosphere found throughout the event, with communal Night Flies that reduced the aircraft to blurs of color in the sky, nightly bonfires and a pilot skills workshop. Flite Test also hosted a special Live Q&A for attendees on Saturday evening.
"The cornerstone of Flite Test is our wonderful community," said Josh Bixler, Flite Test host. "Connecting with community members at Flite Fest is truly a special experience, and we love sharing our passion for this great hobby. We are extremely thankful for all the volunteers, pilots and spectators that made this year's event so successful."
Flite Fest is an event by flight enthusiasts, for flight enthusiasts. The festival embodied the camaraderie of the R/C community, bringing together people passionate about flight in one jam-packed weekend. For more information on Flite Fest 2015, visit http://www.flitefest.com. To see Flite Fest fun in action, watch the Super Circle Plane take to the sky. For more information on Flite Test, visit http://www.flitetest.com.
About Flite Test: Flite Test exists for people who are passionate about flight. Through a popular webshow and website, Flite Test entertains, educates, and elevates the world of flight. From veterans to beginners, Flite Test empowers the radio-controlled (RC) community to work in their passion daily. The goal is to provide a creative outlet for flight enthusiasts by blending humor, technology, and information to create quality content and products. Visit flitetest.com, youtube.com/user/flitetest, and Flite Test on Facebook to learn more. Flite Test is a Lauren International Company.