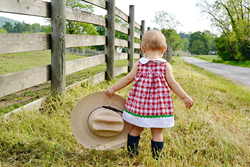 (PRWEB) July 24, 2015
Farm Credit of the Virginias is pleased to announce the top 3 photos of the 2016 Photo Calendar Contest. The contest was extremely successful and competitive, with over 250 photo entries and 1,680 votes. First place goes to Molly Estep of Bergton, VA, Second place to Kami Keyser of Upper Tract, WV and Third place to Heather Hinson of Riner, VA.
The top 3 photos can be viewed on the Farm Credit of the Virginias website. Congratulations to the winners and thanks to everyone that participated in this year's contest! Please visit our website beginning January 1st to participate in the 2017 Calendar Photo Contest.
Farm Credit of the Virginias provides over $1.5 billion dollars in financing to more than 10,000 farmers, agribusinesses and rural homeowners throughout Virginia, West Virginia and western Maryland. Farm Credit is a cooperative capitalized largely through investments made by farmers, ranchers and the rural homeowners and businesses that borrow from them. Farm Credit helps maintain and improve the quality of life in rural America and on the farm through its constant commitment to competitive lending, expert financial services and for facilitating and sharing knowledge and resources through the Farm Credit Knowledge Center. For more information, visit http://www.FarmCreditKnowledgeCenter.com or http://www.FarmCreditofVirginias.com.