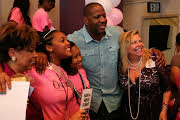 Oakland, CA (PRWEB) July 23, 2015
The press is invited for interviews at the 2nd Annual Oakland Teen Empowerment Scholarship Program and Brunch – We are the Change, a non-profit organization, Saturday July 25, 2015, 11am Brunch, Program at Noon-2:30pm, at the Historic Sweet's Ballroom/OSA, 1933 Broadway in Downtown Oakland, CA 94612. The teens will compete for a 2-year $3,000.00 stipend to Peralta Colleges, a computer, cash gifts, and a family vacation sponsored Southwest Airline. The event is an "academic" pageant, with jeans and teens. The purpose of the pageant is to "be the change" to stop the violence in Oakland by educating, empowering and encouraging the future of girls. The goal is to prevent becoming victims of violence and human trafficking. Teens attended 14 college prep workshops on: yoga/meditation, banking, etiquette, HIV/STD prevention, healthy cooking, public speaking, human trafficking/drugs, healthy choices, boundaries, psychology, STEM program, peer pressure, hair/make up, and dancing. They will be judged on: introducing themselves in a second language, volunteer work, a written essay, talent, and verbal communication skills etc.
The event will be produced by an Oakland family, Paula and Maurice Welsh – Founders; daughter; Celebrity Chef Nikki Shaw – Event Chair; wife of Oakland's own NBA Coach Brian Shaw, Bianca Shaw – Youth Coordinator; and sponsored by the family owned business Center Stage Salon on Lakeshore in Oakland, CA. It is their belief that a 2-year program will lead to a career or a 4 year degree. The goal is to become college educated, promote community leadership, and to be competitive in today's job market. Plans are to collaborate with a STEM program, technology companies and social media outlets for a 5-year plan. The 2014 Queen Jasmine Johnson is enrolled in Berkeley City College with expenses paid. A gofundme account has been set up at http://www.GoFundMe.com/iaah4o for donations. Click on the following link to see our girls in action at: http://youtu.be/fIfRZOJtnnk. Visit the website at http://www.oaklandteenempowermentpageant.org. Computers are donated by Toshonna Ross – Founder/Executive Director of Courageous Women Association. In addition, Alameda County District Attorney Nancy O'Malley is sponsoring two paid internships for 2015. Dr. Elnora Webb, President of Laney College and Deputy Chief OPD Danielle Outlaw will be guest speakers. Dale Golden, V.P., Torrey Pines Bank, Center Stage Salon, Wayne Campbell of Southwest Airline, Victoria Jones, V.P. CLOROX, Youth Uprising, and Carol H. Williams Advertising Agency are among the sponsors.