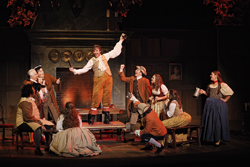 Fayetteville, AR (PRWEB) July 23, 2015
Mark your calendars with this season's featured performances at the University of Arkansas Theatre. Beginning in October 2015 and running through April 2016, the Theatre will be putting on a variety of shows to cater to a wide range of audiences.
With popular names like "Twelfth Night" and "Green Day's American Idiot", the Mainstage Series is one that many will recognize and enjoy watching time and time again. The Studio Series features other productions and student projects.
This season at the Theatre has two series: Mainstage and Studio series. The Mainstage Series has fully-mounted, large-scale productions performed at the Theatre throughout the entire season. The Studio Series features smaller productions performed at Studio 404 in Kimpel Hall and Global Campus Theatre.
2015-2016 Season Productions
Mainstage Series:
"Hay Fever" (Noel Coward) – Oct. 2-11, 2015
"Twelfth Night" (William Shakespeare) – Nov. 13-22, 2015
"Eurydice" (Sarah Ruhl) – Feb. 19-28, 2016
"Green Day's American Idiot" – April 15-24, 2016
Studio Series:
"God of Carnage" (Yasmina Reza) - Oct. 22-25, 2015
"Lilies on the Land" (The Lion's Part) – Nov. 5-8, 2015
"The Motherf**ker with The Hat" (Stephen Adly Gurgis) – Feb. 4-7, 2016
"MFA Directing Projects" (title TBA) – March 10-13, 2016
Plan ahead of time to keep your nights free to see University of Arkansas Theatre's productions this upcoming season! Season Tickets are available to each series separately or combined. Learn more about our upcoming events on our website, and buy your tickets for this season's show here: http://sa1.seatadvisor.com/sabo/servlets/EventSearch?presenter=FULBRIGHT.
About the company:
The University of Arkansas Department of Theatre has been providing exciting and affordable live theatre for more than 60 years. They combine a first-rate theatrical education full of hands-on experience with a wide selection of titles to challenge their students and delight the community. The Theatre Department produces eight to 10 shows each year: four large-scale productions at the University Theatre and four to six smaller shows in the Studio Series. Shows range from new works to classic favorites, from period pieces and Shakespeare plays to Broadway musicals. For more information, visit their website at http://theatre.uark.edu/.