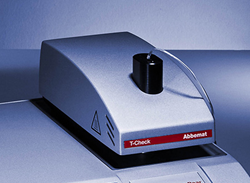 (PRWEB) July 25, 2015
Technology leader Anton Paar offers the Abbemat T-Check for its refractometer series. It precisely checks and adjusts the surface temperature of the measuring prism. This is required to achieve the most precise refractive index measurements.
In the pharmaceutical industry, data traceability and documentation are key requirements. It is likely that no refractometer manufacturers on the market can traceably prove the exact surface temperature of the measuring prism during the measurement (a prerequisite for correct refractive index determinations). They still use the same temperature calibration for an instrument's entire lifetime. The problem is that not all samples and reference standards have the same dependence of refractive index on temperature. Even if effects from temperature deviations seem to be "calibrated away," there are likely to be errors in refractive index readings for real samples.
A limiting factor on the temperature check of the prism surface used to be the availability of a suitably accurate surface thermometer. Anton Paar has solved this issue with the development of the Abbemat T-Check featuring best-in-class surface thermometry. To ensure full traceability, the temperature check is performed in comparison to an external certified temperature sensor. Anton Paar has a long pedigree in traceable temperature measurement with the MKT 50 Millikelvin thermometer, which is widely used as a reference instrument. In addition, all Abbemat refractometers are equipped with a precise built-in Peltier temperature control with an accuracy of up to +/-0.03 °C.
With the Abbemat T-Check it is now possible to:

Easily check and adjust the surface temperature of the measuring prism to ensure the most accurate refractive index measurements
Minimize downtimes
Fulfill the requirements of pharmaceutical standards during the qualification process