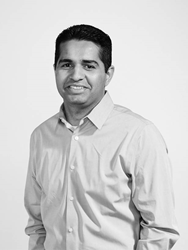 Mountain View, CA (PRWEB) July 24, 2015
Stanford Investment Group, Inc., a comprehensive wealth management and financial planning firm, has promoted Nayan Lapsiwala and Natalie Morrella while hiring Cliff Loh, Kaleb Paddock and Savannah Rotter, bringing the boutique firm's full-time employee count to 16. SIG, which manages and advises on approximately $900 million in assets, has also introduced a new logo plus a web site designed to enhance the client experience and fully communicate the firm's depth of services.
"The promotions of Nayan and Natalie mean these dedicated, seasoned professionals will now have the opportunity to advise and work directly with clients," said President and CEO Helen A. Dietz "Our impressive new hires bring both talent and perspective that will compliment the Stanford Investment Group team. This incredible depth of experience will help us continue to build the firm's legacy and those of our clients," she said.
Nayan Lapsiwala was recently promoted to Wealth Advisor with Stanford Investment Group. Nayan joined Stanford Investment Group in 2007. As a Wealth Advisor, Nayan will continue to bring his knowledge of economic market data and financial planning acumen to each client relationship. Nayan is also a key member of SIG's Investment Research and Portfolio Management teams.
Previously, Nayan worked at ICICI Lombard General Insurance and IDBI Bank as a Marketing Coordinator on their respective business development teams. Nayan holds a BS in Computer Science from South Gujarat University, India, and an MS in Finance from Golden Gate University. He is a Chartered Financial Analyst (CFA), Chartered Alternative Investment Analyst (CAIA) and a Member of the CFA Institute and CFA Society San Francisco.
Natalie Morrella was recently promoted to Associate Advisor and Financial Planning Specialist. Over her 10-year career at Stanford Investment Group, Natalie has become a specialist at helping clients formulate and crystallize their long-term financial goals. Natalie earned her Certified Financial Planner (CFP)™ in 2012 and, as part of the firm's Advisory Team, Natalie helps her clients (some spanning multiple generations) develop comprehensive financial plans with an eye toward the future. Natalie holds a BA in Public Relations with a Minor in Communications from San Jose State University. She is a CFP and a member of the Financial Planning Association (FPA).
New hires include Cliff Loh, Kaleb Paddock and Savannah Rotter.
Associate Advisor Cliff Loh joined Stanford Investment Group after 20 years in the tech industry. As an Associate Advisor, Cliff is an integral member of SIG's team, as he understands the challenges faced by those at the forefront of today's technology-centric economy. Previously, Cliff was Product Manager at Financial Engines, a technology-based RIA focused on helping clients get ready for, and enjoy, retirement. Cliff has a BS and MS in Industrial Engineering from Stanford University. He also completed the Personal Financial Planning Program at the University of California, Santa Cruz and is a member of the Financial Planning Association (FPA) of Silicon Valley.
Associate Advisor Kaleb Paddock partners with the firm's Wealth Advisors to strengthen ongoing client relationships and support the growth of new clients. Prior to joining Stanford Investment Group, Kaleb worked with a Third-Party Administrator in Walnut Creek, California, designing and administering qualified retirement plans (401(k) Plans) for businesses with less than 50 employees. At SIG, Kaleb hosts a monthly Advisors Round Table where colleagues meet to share ideas, learn about topics of interest and network with their peers.
Kaleb has a B.S. in Business Administration with an emphasis in Finance from The Master's College in Santa Clarita, California. He is a member of the Financial Planning Association (FPA), Silicon Valley Chapter and is in the process of studying for his CERTIFIED FINANCIAL PLANNER™ designation.
Savannah Rotter joins SIG as a Client Service Associate. Savannah is an integral part of the SIG team and works with account custodians and partners on behalf of our clients. In her role as Client Service Associate, Savannah is responsible for upholding the overall client experience. Savannah holds a BB in Finance from the University of Hawaii at Manoa.
Stanford Investment Group's new website is a digital representation of the wealth management firm. SIG's web site represents the Team, the Firm's investment methodology and experience, including SIG's approach to managing wealth and providing specialized planning for clients in the tech and legal professions.
Stanford Investment Group, Inc., located in Northern California, specializes in comprehensive wealth management, encompassing financial planning and asset management offerings as well as a broad range of financial concierge services. Founded in 1982, Stanford Investment Group provides unique solutions and a 360° approach to wealth management. Committed to transparency and fiduciary responsibility, Stanford Investment Group harnesses the power of personal service to maximize clients' wealth so they can stay focused on the things that matter to them. http://www.stanfordinvestment.com/
Stanford Investment Group, Inc., a Registered Investment Advisor and Broker/Dealer, is not affiliated with Stanford University.
Member FINRA/SIPC.
Contact: Ellie Rand, 504.343.6551 ellie(at)ellierandpr(dot)com