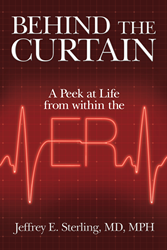 Behind the Curtain: A Peek from within the ER grabs you from the first page with its mix of all-too-real experiences and important life lessons
Dallas, Texas (PRWEB) July 24, 2015
As Jeffrey Sterling, MD, MPH has seen from more than twenty years as an emergency room physician, "Anything that can happen, will!" Dr. Sterling's new book, Behind the Curtain: A Peek at Life within the ER (Brown Books Publishing Group), is available now, and offers a vivid look at the extreme, traumatic situations that go on daily in the ER. He uses his own personal experiences to reveal the kind of rapid-fire decisions, and unlikely encounters, which are a part of ER life in hospitals across the country.
In Behind the Curtain, Dr. Sterling is on a mission to share his message: good sense and right decisions can prevent people from ever seeing the inside of an ER.
"We make choices each and every day that affect our health and welfare, and we need to be smart about each of them," says Dr. Sterling. "In many cases, the hospital emergency room has become the 'go-to' place for every malady, but in other cases, it's really no surprise as to why a patient ends up in the ER based on their personal health and welfare decisions."
Behind the Curtain has already received early acclaim from Kirkus Reviews, a publishing industry stalwart since 1933, which wrote of the book, "Drawing on over 20 years of experience in emergency medicine, debut author Sterling presents alternately humorous and sobering stories of the 'controlled chaos' of a hospital emergency room." The publication concluded with, "Two messages come through clearly in this collection: knowledge is power, and it's better to be safe than sorry."
Dr. Sterling is a widely known and respected ER physician who is also a global leader in community-based medicine, serving as a national and international advisor, entrepreneur, consultant, and speaker specializing in professional areas such as public health, consumer healthcare education and prevention, hospital and provider administration, global healthcare infrastructure, and pharmacoeconomics. He is the founder of Sterling Initiatives, LLC, and Sterling Medical Advice.
In addition to national book tour dates and locations, Dr. Sterling's website, http://www.JeffreySterlingBooks.com, hosts an extensive video blog informational series on a variety of health topics, with subjects ranging from weight loss to cancer to diabetes. Dr. Sterling provides sound tips on preventative care as well as how to identify symptoms. He also maintains a daily blog on the site titled, "Straight, No Chaser."
"Behind the Curtain: A Peek from within the ER grabs you from the first page with its mix of all-too-real experiences and important life lessons from Dr. Jeffrey Sterling. His gentle wisdom, learned through years of extraordinarily difficult experiences, provides guidance for all who read this wonderful book," said Morton Schapiro, PhD, president, and professor at Northwestern University.
"One thing most people don't realize is that ER physicians never know what's going to come through the door at any time, and we make split-second decisions on treatment," said Dr. Sterling. "In many cases, personal decisions can be made in advance that can prevent a visit to the ER."
###
For media inquiries or to schedule an interview with Dr. Sterling about the book or regarding health-related topics, contact Vicki Morgan or Gavin Rhoades at vicki(dot)morgan(at)brownbooks(dot)com or gavin(dot)rhoades(at)brownbooks(dot)com.