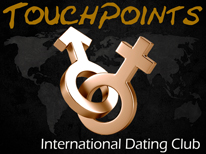 The TouchPoints solution was created to save members years of research, trial and error, and to take them directly to the world's sweet spots of love and lonely hearts.
Torrance, California (PRWEB) July 28, 2015
TouchPoints International Dating Club, LLC is an exclusive membership dating solution, that personally introduces single men to the world's most beautiful and intelligent women. Most international online dating agencies use the same format, a profile at no charge, but an average price for chat at $3 per minute. When adding up the charges for every message, flirt, letter, phone call, photo and translation, the final cost can be quite unexpected and the results lackluster. TouchPoints allows male members to communicate with single female members on an unlimited basis. TouchPoints currently has over 1200 active female members, from 5 different countries and membership starts at only $225 per month.
"Online and international dating has become corrupt with scams aimed at the wallets of single men who are looking for gorgeous and exotic foreign women to date," explains Ron Harris, CEO of TouchPoints. TouchPoints caters to its male members, guides, protects and connects them to real international women. Each female member has been interviewed, researched, qualified and is not only beautiful, but also a product of an exceptionally fine background, well-educated, intelligent and charming," adds Harris.
"TouchPoints members don't deal with international dating scams and foreign interference, there is no wondering if the woman online is real or really interested. The TouchPoints solution was created to save members years of research, trial and error, and to take them directly to the world's sweet spots of love and lonely hearts," states Harris.
"The private TouchPoints online social dating community is called "The Point" and its the center for member communications, information and news, explains, Ronald Perez, TouchPoints President and International Dating Coach. "The Point" is also available on mobile devices. At "The Point", members socialize, chat, become friends, send messages, send likes, send media and all correspondence is translated. Members can setup dates, schedule meetings, private introductions, book tours and invite female members to Global Social Events. Global Socials Events are held in neutral countries where members fly into from around the world for romantic rendezvous, introductions, meetings, mingling, networking, parties, games, dating and falling in love," states Perez.
"Each month, male members are personally introduced to ladies selected by "Sapien" the proprietary TouchPoints compatibility algorithm, that matches personality traits of men and women from different cultures. Each male member has access to the ladies by country galleries, is appointed a personal concierge and private international dating coaches. Male members can look for a monogamous relationship or entertain ladies in every country. For those who want VIP treatment Platinum membership offers unlimited possibilities," adds Perez.
TouchPoints is a true international dating and matchmaking solution. TouchPoints connects single men and women from around the world. TouchPoints offers a global solution that gives its members endless opportunities to meet the man or the woman of their dreams and the platform to make dreams a reality. TouchPoints serves clients across many spectrum, members are those who are open to the possibility that their life partner may be somewhere else in the world. TouchPoints is committed to inform, educate and connect its members to new cultures, customs, traditions, experiences and possibilities. For the past five years TouchPoints has served individual clients, making private introductions in over 25 cities around the world.