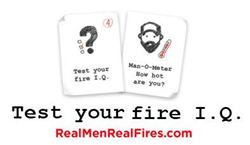 (PRWEB) August 06, 2015
The National Gasoline Safety Project Asks Men to Take A Manliness Measure at RealMenRealFires.com
New Manliness quiz tests firestarting IQ and drives home safety message.
The National Gasoline Safety Project (NGSP) is reaching out to outdoor chefs and pit masters with a tip sheet through the Real Men Real Fires campaign to help men hone their fire-starting skills. RealMenRealFires.com offers fire-starter recipes, tips for campfire construction, and funny quizzes where real men can take a measure of their manliness, then share quiz results and challenge their friends.
"Whether it's catching dinner bare-handed or just surviving car camping with the spouse and kids, summer is a time when real men get to test their outdoor savvy," stated NGSP spokeswoman Sara Isaac. "And the true mark of all real men is starting a fire the caveman way. Despite wet wood, whiny kids, or a woolly mammoth (sized) steak to grill, real men can whip up the flames in seconds flat. Matches optional. Gasoline, never."
There are plenty of reasons why real men (and women) never use gas to start fires. It shows an embarrassing lack of know-how, for one. But real men also know right down to the marrow of their bones how incredibly cool they are. That means kids look up to real men – and copy what they do. It's also why real men put their muscle behind the National Gasoline Safety Project; to stop gasoline related burn injuries to children.
Visitors to RealMenRealFires.com can:

Compare how they stack up to the Pyramid of Manliness
Go pro at the grill with Real Men barbecuing tips
Brush up on campfire building techniques, from teepee to cross-ditch
Get the Real Man's DIY fire starter recipe
Take the Man-o-Meter quiz to find out if they are sizzling hot or lukewarm.
Real Men Real Fires is a campaign of the National Gasoline Safety Project, which is sponsored by the Portable Fuel Container Manufacturers Association.