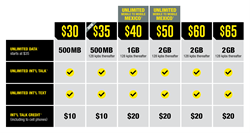 (PRWEB) July 27, 2015
H2O® Wireless ("H2O"), a leading provider and pioneer of no-contract prepaid wireless services provided by Locus Telecommunications, Inc. ("Locus"), today announced all new upgrades for H2O Monthly Unlimited Plans, including more plan options, unlimited data with higher 4G LTE allowances and unlimited international features.
"With so many advancements in mobile technology; whether it be browsing the web, checking emails, downloading apps or sending pictures, subscribers are in need of more data today than ever before and we are excited to offer unlimited data at affordable prices," says Jack Woo, Senior Vice President of Wireless Sales at Locus.
H2O now offers a new $35 Monthly Unlimited Plan including unlimited domestic talk, text and 500MB of data at up to 4G LTE speeds with international features. Unlimited Data for all upgraded Monthly Unlimited Plans is at up to 128Kbps speeds.
Higher 4G LTE data allowances improve the $60 and $65 Monthly Unlimited Plans. With upgrades, get 3GB of data at up to 4G LTE speeds versus 2.5GB on $60 plan and 3.5GB of data at up to 4G LTE speeds on $65 plan.
Now Unlimited Mobile to Mobile Calling to Mexico is offered exclusively on $40 and $50 Plans for limited time.
Additionally, H2O improves connections around the world to Bangladesh, China, Hong Kong, India, Israel, Portugal, Singapore, South Korea, and more. New unlimited international features now come with every Monthly Unlimited Plan and they include:

Unlimited International Landline Calling to 50+ Countries,
Unlimited Worldwide Texting to any country,
International Mobile to Mobile Calling to Select Destinations,
Additional Talk Credit for non-featured countries and Mobile Calling and
All for No Extra Purchase!
Visit H2OWirelessNow.com to learn more about H2O Auto Recharge with its monthly discounts, free phone offer and upgrade your H2O Monthly Unlimited Plan to begin experiencing high speed data and unlimited international features today!