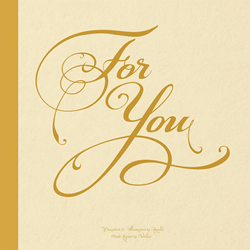 Sometimes we all just need a little reminder of the beauty that exists in the world.
LONDON (PRWEB) July 24, 2015
Positive thinking is something that simply can be thought, but also inspired by uplifting moments, striking memories and strong positive bonds with other people. For most that road to emotional richness and positivity begins at home.
Artist Amalie Beljafla wants to help people of all ages achieve that positive outlook by inspiring them through striking works of art accompanied by powerful, cross-cultural quotes in her new book, "For You."
"My mother was instrumental in encouraging me and instilling positivity in me from a very early age," Beljafla said. "I want to pay that forward to people all around the world, especially young people stuck in tough situations."
Having received her master's in communication and design from London's prestigious Central Saint Martins, Beljafla understands the power art can have as a form of communication. Her main goal is to help improve the lives and mental health of young people, but her philanthropic streak has inspired her to send all book proceeds to Signal Ethiopia, a non-profit that helps build schools and football fields in Ehtiopia.
"Sometimes we all just need a little reminder of the beauty that exists in the world," Beljafla said. "My hope is that these images and quotes that have helped change my life can do the same for others."
For more information, please visit http://amaliesbook.com/home.php
"For You"
By: Amalie Beljafla
SC-ISBN: 978-1-45251-836-7
SC-Retail price: $30.95
Available at barnesandnoble.com, amazon.com and BalboaPress.com
About the Author
Amalie Beljafla's is half-Emarati and half-Norwegian leading her to have vast amounts of cultural experiences throughout her life. She attended the Dubai International Academy to receive her international baccalaureate diploma and has attended Central Saint Martins to receive her foundation degree in art and design, her bachelor's in graphic design and her master's in communication and design. Beljafla has also released her own fashion line and previously been featured in Vogue Magazine.
###
Editors: For review copies or interview requests, contact:
Spencer Hotz | 317.602.7137| shotz(at)bohlsengroup(dot)com
(When requesting a review copy, please provide street address.)