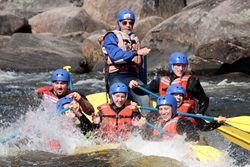 The Lake George area is blessed with two great Summer rivers for whitewater rafting, tubing, kayaking and canoeing
Lake George, NY (PRWEB) August 07, 2015
Lake George is uniquely situated in the southern Adirondack mountains of New York. The outdoors call quickly with literally every summer outdoor adventure activity available in the Lake George area. Starting with Lake George itself, numerous adventures await on the 32 mile long lake often dubbed The Queen of American Lakes. Kayaking and stand-up paddle boards are a unique way to explore the shorelines and visit one of the many islands near the Narrows section of the lake. The Southern Basin near the Village of Lake George has many parasailing (parachute towed by a boat) operators. This is a unique way to see the lake and the mountains from an aerial vantage point. For the less adventurous, lake cruises and boat rentals are available in Lake George Village including luncheon and dinner cruises and specialty cruises to view the fireworks on Thursdays. . Visit the Georgian Resort Website for more information about outdoor adventures on Lake George.
Summer adventure on the water is not just limited to lake travel. The Lake George area is blessed with two great Summer rivers for whitewater rafting, tubing, kayaking and canoeing - The Sacandaga River near Lake Luzerne and the Upper Hudson River near North Creek. Water levels usually go down in the Summer, but thanks to dependable dam releases, summer whitewater is great on both rivers. The Sacandaga River is tailor made for summer fun. Outfitters offer guided rafting, tubing trips and sit-on-top kayaks for whitewater on the 3 1/2 mile section. The Upper Hudson River is a longer adventure class guided wilderness whitewater river. Hudson trips are run all Summer long on Tuesdays, Thursdays, Saturdays and Sundays. And if that isn't enough, the Lower Hudson is home to guided lazy river tubing trips, canoeing and kayaking. Much more information on the Georgian Resort website
Adventures on land can begin with spectacular hikes in the Lake George Area. The Eastern shore of Lake George has Buck Mt., Shelving Rock, Sleeping Beauty Mt., and Black Mt - all with commanding views of Lake George. The East shore has a spectacular loop trail called the Southern Tongue Mt. Loop. All these hikes have a trail map downloadable to your phone with other photos and trail information. Visit the hiking guide on the Georgian Resort's website with links to Every Trail and downloadable maps.
Many more outdoor adventures await in the Lake George area, and they are all suitable for families - even with young children. Get our there. Natural Stone Bridge and Caves, Pottersville, NY - delightful geological wonder with a great gift shop, tours, 20 minutes from Lake George. Adirondack Extreme - ropes course and ziplines - Bolton Landing, NY, just 15 minutes from Lake George. Garnet Mine Tours, North River, NY near North Creek, open pit mine and gift shop, 30 minutes from Lake George. Up Yonda Farm, Bolton Landing, an environmental education center with tours and programs all Summer long. And one more great environmental education adventure is the Floating Classroom from The Lake George Association sailing twice on Wednesdays from the Lake George Village docks. Plenty more outdoor adventure information is on the Georgian website under Attractions and Activities.