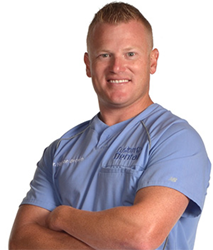 Guthrie, OK (PRWEB) July 23, 2015
Patients looking for a dentist in Guthrie, OK, who can provide them with advanced dental implants, can now turn to Dr. Nathan Brown at Custom Dental. Dr. Brown has rigorously been searching for a type of dental implant that can work for all of his patients. After undergoing advanced training, he now offers OCO Biomedical implants for qualifying patients. These implants may give patients the chance of restoring their smiles, using natural looking materials that are meant to last a lifetime.
OCO Biomedical implants are unique in both their design and function. These implants are made of a titanium root, with a specially designed and patented tip, that immediately locks the implant in place. The thread pattern of the implants, which very much replicates a screw, maximizes contact with the bone to make the implant strong and capable of simulating a real tooth. Over time, the connection between the bone and root becomes increasingly stronger, in a process known as osseointegration. Unlike other types of dental implants, which rely heavily on osseointegration for strength and stability, OCO Biomedical implants can be placed within the jaw and topped with a crown without the inconvenience of a lengthy healing period. This allows patients to enjoy their new smiles immediately following an appointment. Moreover, these implants boast a success rate higher than 99 percent, so patients can be reassured that they will receive the results they are seeking.
As a dentist in Guthrie, OK, Dr. Brown understands that many people are embarrassed by the gaps in their smiles, but may be unaware of how to remedy this concern. Finances are always a consideration, and thus the doctor is pleased to provide dental implants that are among some of the most advanced on the market, but also some of the most affordable. Due to their well-engineered design and efficient manufacturing, OCO Biomedical implants are available for a fraction of the cost compared to the traditional costs by other leading implant manufacturers.
Patients who are interested in receiving more information about OCO Biomedical implants are encouraged to contact Dr. Brown, a leading dentist in Guthrie, OK. His goal is to restore the smiles of his patients through quality care and materials.
About the Doctor
Dr. Nathan Brown is an accomplished dentist offering personalized dental care for patients in Guthrie, OK. Dr. Brown earned his dental degree from the University of Oklahoma, and currently serves as the Vice President of the OU College of Dentistry Alumni Association. Dr. Brown and his staff are proud to provide patients with high quality, modern dental care through the use of laser technology, and offer general and cosmetic dentistry services, dental implants, sedation options and a list of other services. To learn more about Dr. Brown's practice please visit his website at http://www.guthriedentist.com or call (405) 293-4859 to schedule an appointment.