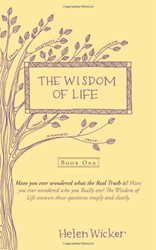 DENVER, Colorado (PRWEB) July 24, 2015
Topics like love and happiness are difficult to explore. Author Helen Wicker provides the reader with a new way to discover him or herself through her new book, "The Wisdom of Life".
Told in short chapters, Wicker's words urge readers to think deeply about important life topics by connecting their meaning to their own lives. Through reading "The Wisdom of Life", readers will find freedom and inspiration.
"I really wanted to explore the deeper, spiritual wisdoms and truths of life," Wicker said. "I spent so much time searching and asking for the truth, and finally I heard an inner voice and knew what to write."
Wicker knows that self-discovery is a task that many people find overwhelming and may ignore in favor of simple distractions. This is why she believes her book is necessary: it makes the process accessible and incredible.
The Wisdom of Life
By Helen Wicker
Available in softcover, hardcover, e-book
Available online at Amazon, Barnes & Noble and Balboa Press
About the author
In the mid 1980s, frustrated and confused from all she had read and studied in the religious and spiritual realms, Helen Wicker asked with all her heart and soul to find the truth. With that request, she launched her spiritual journey that resulted in this first book. Helen has combined scribing a series – "The Wisdom Books" – with owning a successful retail store for the last thirty-six years.
# # #
For review copies or interview requests, contact:
Craig Cainkar
(317) 602-7137
ccainkar(at)bohlsengroup(dot)com