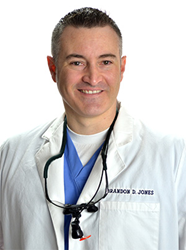 Newcastle, OK (PRWEB) July 24, 2015
People who need a long-term dental solution for tooth loss in Newcastle, OK can now visit Dr. Brandon Jones to receive OCO Biomedical dental implants. These implants are specifically built to immediately anchor prosthetics, and the innovative design also helps maximize bone strength. As a result, patients can enjoy the health benefits of implants without any unnecessary delays between the placement of the implants and the attachment of functional crowns.
OCO Biomedical dental implants are secured into the jawbone like regular implants, but they have various unique features that enhance their effectiveness. The general design increases the amount of implant surface area that is in contact with the bone, which maximizes bone strength as well as implant stability. Threads near the top of the implant studs create a secure fit with the bone, and the auger tip helps wrap bone around the implant at the time of placement. As a result, Dr. Jones' patients do not have to wait several months for their implants to integrate with the jawbone to become stable. The implants are fit to support crowns immediately, making them a convenient treatment for tooth loss in Newcastle, OK.
This immediate functionality, along with the general nature of implants, offers distinct benefits for patients. OCO Biomedical implants minimize the time that patients have to live with the adverse side effects of tooth loss, which may include dietary restrictions and difficulty speaking normally. The immediate placement of crowns also ensures that any remaining natural teeth do not shift into the spaces that lost teeth have left. Additionally, like regular dental implants, OCO Biomedical implants stop bone resorption, which is the process of bone density deterioration that occurs after tooth loss. Resorption, which is irreversible, can create an aged appearance and limit a person's ability to receive various tooth replacements, from implants to dentures. This is one reason that Dr. Jones may recommend implants to patients who want a lasting solution to tooth loss in Newcastle, OK.
Dr. Jones welcomes patients who are interested in learning more about OCO Biomedical implants to schedule consultations. During an initial examination, Dr. Jones can assess whether these implants offer a viable option, based on a patient's current bone density levels, oral health and other factors. Patients can schedule consultations by calling Dr. Jones' office, or they can request appointment times through Dr. Jones' website.
About the Doctor
Dr. Brandon Jones is a general dentist offering personalized care for patients in Newcastle, OK. Dr. Jones and his staff are committed to providing patients with a high standard of care, and offer a variety of services including general procedures, cosmetic dentistry, orthodontics and dental implants. Dr. Jones welcomes patients of all ages to his full-service practice. To learn more about the services offered by Dr. Jones, please visit his website at http://www.thenewcastledentist.com or call (405) 494-4524 to schedule an appointment.