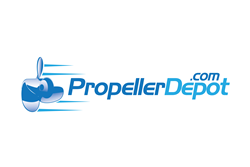 'Our number one goal for launching Propeller Depot was to provide an easy to use website, and continue to offer the lowest prices in the marine industry.' - Mike Heller VP of Sales
Fort Lauderdale, Florida (PRWEB) July 27, 2015
Propeller Depot announces their company launch and website http://www.propellerdepot.com. They are a supplier for inboard boat propellers, outboard/sterndrive props, wake props, marine bearings, marine shaft seals, stainless shafts, zinc anodes, marine hardware and everything in between. Many major brands are on their inventory list, including Michigan Wheel, Volvo Penta, SOLAS, ACME Marine, Buck Algonquin, Tides Marine, and many others. Propeller Depot offers many levels of shipping options to over 140 countries worldwide. Clients are their number one priority, and their boating experts will help guide clients to the propeller or boat part that they need. Thanks to their extremely high volume of sales and relationships with the best manufacturers, they are able to offer these low prices to their clients – low operating costs mean big savings.
About their products.
Boasting their supplier status of some of the top names in the industry, Propeller Depot is impressive with their lineup. Thanks to their wide selection of brands and the option for a custom propeller or fitting from most of these brands, clients will receive the best product that is a perfect fit for their boat. While Propeller Depot is a major player in the propeller market, boat props are not the only product that they offer.
Marine bearings of all kinds (naval brass, non-metallic, flanged and demountable stave) are here for purchase, as well as many different types of zinc anodes. Stainless steel shafts, marine seals, packing boxes and shaft accessories are covered and a plethora of marine hardware makes up a large portion of Propeller Depot. Marine hardware categories include deck hardware, valves, steering hardware, strainers, exhaust and plumbing fittings, and hoses and clamps are just the tip of the hardware iceberg.
Propeller Depot offers an economical outlet of access to the most efficient and trusted marine brands in the world. Knowing their way around the industry, the company has decades of experience and their boating experts have cutting-edge knowledge about the how and why of the boating industry. Committed to being environmentally friendly, each of Propeller Depot's suppliers designs and develops their products with the upmost commitment to their manufacturing process and their products' ecological footprint. By combining socially conscious companies who also develop state-of-the-art boat propellers and accessories, Propeller Depot is a competitive new presence on the propeller and marine hardware supply scene.