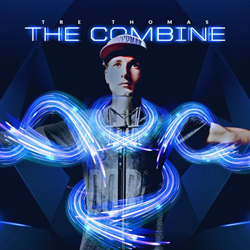 No matter how dark times may be, there will always be a little light waiting for them on the other side.
Goshen, IN (PRWEB) July 24, 2015
Coast 2 Coast Mixtapes presents the release of "The Combine: 2K15" Mixtape by Tre Thomas. This mixtape is currently available to stream and download on the Coast 2 Coast Mixtapes website.
"The purpose of The Combine: 2k15 became very clear to me as I journeyed down a road untraveled by my friends and family. The main goal of releasing this project was to open the eyes of people 'going with the flow' to a different lifestyle and deeper thinking. Between struggling to make a living and dealing with physical and mental pressures, I combined my concepts and ideas to form a story of a dark tunnel which leads into the light," said Tre Thomas.
"A story where anybody going through a struggle can relate and understand that, although life has its ups and downs, one can always make the best of any situation if they choose to do so. I hope listening to this project allows one to take a second and appreciate life and what it means for them. And to understand that, no matter how dark times may be, there will always be a little light waiting for them on the other side," he concluded.
Tre Thomas is a Midwest Hip-Hop recording artist located in Goshen, IN. Growing up in a small town, Tre quickly learned the value of hard work and earning rewards, rather than being given rewards. This mindset has propelled his music career to a step above others throughout the region and has continued to provide a mental determination to accomplish his goals. Not only does Tre Thomas apply this to music, but the entirety of his life as well.
With influences such as Eminem, 50 Cent, Mac Miller, and Kid Cudi, Tre Thomas has developed a love for creating music that is rarely matched. Between working two jobs to fund his expenses and constantly pushing to adapt and grow in the music scene by performing at local open-mic nights and shows, he has put his life on the line to do what he loves: create Hip-Hop music.
He seeks to divert from the common Hip-Hop methods through the display of abstract thoughts, opening minds to different lifestyles, and discarding common beliefs and ideals in the industry. Tre Thomas, and his concepts within his music, provide a positive musical journey the audience can become instantly indulged in; a journey that few have traveled, but a journey that can change a person's life forever.
Stay up-to-date with Tre Thomas on Twitter at: @OGTreThomas
About Coast 2 Coast Mixtapes
Coast 2 Coast Mixtapes are the most widely distributed mixtapes in the world, with over 100 million downloads/plays generated by over 200 volumes officially hosted by major artists. Coast 2 Coast has a solid reach in the new music industry with a digital magazine, DJ coalition, industry tips blog, yearly convention, and more. Coast 2 Coast Mixtapes represents a unique opportunity for artists of all urban genres, from major to indie. For more information, visit http://www.coast2coastmixtapes.com.