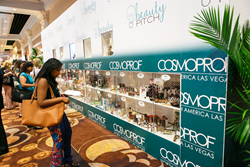 "We're already planning to make the show even more impactful in 2016," said Daniela Ciocan, Marketing Director, CPNA.
Las Vegas, NV (PRWEB) July 30, 2015
Cosmoprof North America (CPNA) furthered its reputation as the leading B2B beauty trade show by introducing revolutionary technologies and forward-thinking programs at its recent event, held annually at Mandalay Bay Convention Center in Las Vegas. Close to 30,000 attendees engaged with a record-breaking 1,017 exhibitors from 39 countries to discover unique brand launches; product innovations; new channels for distribution, packaging, and manufacturing; and to form key relationships with top industry professionals and retailers. The three-day event, which took place under one roof encompassing more than 252,908 square feet, remains the single most important networking opportunity in the United States for all sectors of the global beauty industry.
CPNA is organized by North American Beauty Events, a joint venture between BolognaFiere Cosmoprof S.p.a., a leading Italian-based organizer of international trade shows such as Cosmoprof Worldwide Bologna, and the Professional Beauty Association (PBA), one of North America's largest and most influential trade associations representing all categories in the professional beauty industry. The latter hosted its annual PBA Beauty Week, also at Mandalay Bay Convention Center, in conjunction with CPNA's show, giving CPNA attendees even more unfiltered access to industry happenings and the ultimate platform for one-stop networking.
This year's Interactive Experience and Interactive Technology area was hosted courtesy of drom Fragrances, mycoocoon, and Pulsar, and boasted a mood altering multisensorial experience. The Interactive Technology Area offered unique exhibits from FaceCake Marketing Technologies, Good Apple Digital, and Hone. Attendees also flocked to the BOUTIQUE sampling area to curate their own beauty box, created by HCT Group, and helped raise close to $15,000 for City of Hope.
One of the most anticipated events was PBA Business Forum featuring Beauty Pitch with renowned entrepreneurs Mark Cuban and John Paul DeJoria (Co-founder, Paul Mitchell Hair Care). After a brief Q&A session moderated by PBA Chairman Scott Buchanan with Melissa Goldstein (Beauty Director, Martha Stewart Living) and Neil Parmar (INC.com), five pre-selected companies received the opportunity to pitch their brands and products live -- to Cuban and DeJoria. The winning company, 100% Pure received a one-year mentorship from Cuban and a $10,000 cash prize, courtesy of the private equity firm TSG Consumer Partners in conjunction with CircleUp.
Ensuring maximum brand visibility for its exhibitors and guests, CPNA enabled connections with key buyers and leading online influencers. As part of the Domestic Buyer, International Buyer, Discover Beauty Buyer and IBF&E- Focus on the Beauty Supply Chain buyer program, the latter of which debuted this year, over 750 one-on-one meetings occurred throughout the show. In addition, and unique to CPNA, leading TV shopping channels EVINE Live, HSN and QVC auditioned 22 select brands onsite to find their next winning on-air products.
CPNA also introduced Discover Scent and Tones of Beauty to its roster of special areas. Discover Scent featured artisanal high-end fragrances and fragrance suppliers and was developed in partnership with Sniffapalooza, while Tones of Beauty catered to the growing multicultural beauty market. Additionally, CPNA partnered with Air Aroma who developed a custom fragrance for the exhibition, while to support the packaging sector The Dieline Awards honoring packaging innovators hosted a special pop-up installation for its first appearance at CPNA.
"It is our goal each year to make Cosmoprof North America an unforgettable and rewarding experience through not only the special programs that we introduce and companies that we showcase, but also through the quality relationships that are built between exhibitors and attendees as a result of our event," said Daniela Ciocan, Marketing Director, CPNA. "We've once again exceeded our own expectations and those of our 30,000 guests, and we're already planning to make the show even more impactful in 2016."
Cosmoprof North America will return to Mandalay Bay Convention Center for its 2016 event July 24 - 26. Stay tuned to http://www.cosmoprofnorthamerica.com for information and updates. For photos from this year's event, please visit the photo gallery on http://www.cosmoprofnorthamerica.com.
ABOUT COSMOPROF NORTH AMERICA & PBA
Cosmoprof North America (CPNA) is the award winning premier international B2B beauty trade show covering all facets of the industry under one roof and the largest event of its kind in the Americas. For more information, please visit http://www.cosmoprofnorthamerica.com.
The Professional Beauty Association (PBA) advances the professional beauty industry by providing our members with education, charitable outreach, government advocacy, events and more. PBA is the largest organization of industry professionals with members representing salons and spas, distributors, manufacturers, and beauty professionals/NCA. Visit http://www.probeauty.org or call 800.468.2274 (480.281.0424) to learn more.