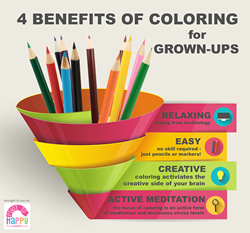 "Color Yourself Happy" brings a new dimension to the rapidly growing adult coloring book category.
Portland, Oregon (PRWEB) July 28, 2015
"Color Yourself Happy" by artist Tara Reed brings a new dimension to the rapidly growing adult coloring book category. This happy coloring book is a part of her larger movement: Pivot to Happy. This book features 50 illustrations to color, happy illustrations and quotes that include hidden arrows to search for - combining positive messages with a favorite past time. The arrows represent pivoting, which is foundational to her approach for happiness.
If you think coloring is just for kids, think again. Coloring is such a hot trend for adults worldwide that four of the top 10 books on Amazon are coloring books. (top 10 list referenced July 19, 2015)
Coloring for grownups isn't new, but its popularity has been on the rise, and for good reason. Coloring stimulates the right side of the brain – where your creativity, intuition and visualization lies. Stress levels go down and feelings of peace and happiness increase.
Grabbing pencils, crayons or markers and coloring is also a great way to detach from the many screens that have taken over our lives – from televisions, to computers to smart phones. Going "old school" and playing with colored pencils or markers and paper is a great escape for all ages.
Coloring is one way to shift the brain's attention and focus. This is a perfect example of pivoting. Even if someone can't change their physical circumstances, they can pivot their perspective, or the way they look at the situation. The Pivot to Happy movement helps people pivot their perspective to create a happier life through writing, speaking, social media and a growing array of products. Sometimes the key to happiness is in small, deliberate pivots of action or attitude and that is what we are all about. Pivot to Happy shares skills and techniques to help people PIVOT (from fear, sadness, anxiety, anger, etc) TO HAPPY. The more a person consciously practices, the faster they will recover from life's setbacks.
Learn more at PivotToHappy.com/coloring/. Color Yourself Happy by Tara Reed ($9.95: ISBN: 9780692484869)