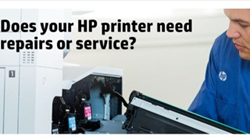 Repair Or Replace ?
(PRWEB) July 24, 2015
5 helpful tips:
1) First of all, the most frequently reported problem is the paper jam error code message. In so many instances individuals that have experienced the HP LaserJet or HP DesignJet paper jam error code message have found it to be very frustrating. Tip: look for jammed paper or debris that may have gotten stuck or lodged in the paper path. If further help is warranted, log onto http://www.LaserRepair911.com and fill out the service request form.
2) Next up on the list, it will not print, please help. Tip: check the printer cable make sure it's connected. You can also try reconnecting it.
3) There is a printer error on the screen and it will not clear. Tip: power cycle the machine in many cases a simple reset will get the machine fixed back up and running.
4) The Hewlett Packard printer reads on the front panel display, Out Of Ink, but actually the cartridges are full. Tip: check the expiration dates of the cartridges, they could be defective and dried out and need to be changed.
5) My HP Design Jet 500 Carriage Belt is shredded or coming apart and I have error 86:01 showing on my front panel display: Tip: turn the machine off and call in a service call to Laser Repair 911 at 1.800.836.9287 or fill out our service request form which you can find at our web site http://www.LaserRepair911.com. We have 15,000 nationwide HP local technicians on standby ready to assist. The carriage belt replacement is a very big and tedious project that should be completed by a experienced printer service repair technician. Some people attempt it themselves. If you are one of those people, this is a warning that you will need 6 hours to spare because the job is tough and requires a full tear down in most all cases.
In conclusion, we love HP printers , especially HP LaserJets and HP Designjets and we believe they are the top of the line printing products available businesses to print on, hands down, that's why in 2013 Hewlett Packard celebrated "200 Million and Counting" machines sold to date, but all office equipment periodically needs maintenance attention to work continuously to factory specifications. Laser Repair 911 can assist call today 1.800.836.9287 for immediate assistance if needed.