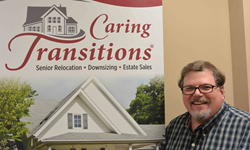 Macon, GA (PRWEB) July 24, 2015
After a life in education, Art Banks is looking forward to starting his next career as a small business owner. Banks just launched Caring Transitions of Middle Georgia.
Caring Transitions is America's largest resource for managing senior relocations as well as downsizing and estate liquidations. In addition to organizing, packing, decluttering, moving and resettling, Caring Transitions can handle estate sales, liquidations, and preparing homes for market. Caring Transitions of Middle Georgia serves Bibb, Monroe, Houston, Peach, Crawford, Jones, Spaulding, Lamar, Butts and Henry counties as well as the surrounding areas.
Before opening Caring Transitions of Middle Georgia, Banks, a Gulf War Army veteran, worked as a teacher for 15 years. His decision was primarily based on two things – the relocation of his mother and step-father as well as a conversation with an old college friend.
"When my mother and step-father decided to move to a senior-oriented community, they did not have one resource that could assist them with packing, moving or even disposing of the items they didn't want. At a time in their lives when they should be able to relax, they were calling amateur movers, storage facilities and waiting months to be reunited with all of their belongings," Banks said.
"As fate would have it, I mentioned the struggle to an old college friend who happens to be a Caring Transitions franchise owner. As we spoke, I came to realize that there was no Caring Transitions franchise in our area despite the need. That's why I decided to open this business," he added.
Whether your situation is planned or unexpected, Caring Transitions' services are perfect for busy families, seniors moving in with family or into a safer living situation, or people clearing out the home of a loved one who has passed. All of Caring Transitions' services are customizable, so clients only pay for the services they need – whether that means handling the entire move and estate-clearing or just getting someone resettled into their new place.
Banks is a Certified Relocation and Transition Specialist, a designation bestowed by an independent organization that evaluates providers of senior relocation services. Caring Transitions of Middle Georgia is bonded and insured and all employees are background-checked.
In addition to the work he does as a business owner and previously, as an educator, Banks is a founding sponsor of Middle Georgia's Pints for Prostate Cancer Awareness Event.
Caring Transitions is a trusted and highly respected national company leading the way in senior relocation, household liquidations and estate sale management in more than 150 locations across the United States. Caring Transitions is part of the International Franchise Association, the Small Business Association's Franchise Registry, VetFran and Minority Fran.
For additional information about Caring Transitions and to learn how the company can help you and your family, call (478)787-6316, email ABanks(at)CaringTransitions(dot)net or visit http://www.CaringTransitionsofMidGA.com. The franchise office is located at 3780 Northside Drive Suites 140-146 in Macon.
About Caring Transitions
Caring Transitions, founded in 2006, is the first national franchising concept specializing in senior relocation and transition services. With more than 150 locations throughout the United States all owned and operated by Certified Relocation and Transition Specialists, Caring Transitions provides clients with supportive moves, auctions, rightsizing and transitions. This includes expert advice plus a well-executed transition plan beginning with the initial sorting of personal belongings through packing, shipping and selling of items to the final clearing and cleaning of the property. For more information, visit http://www.caringtransitions.com or visit us on Facebook or Twitter.