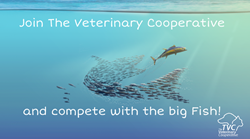 At this current rate of growth over 90 percent of all independent small animal clinics will be owned by a corporation or part of a purchasing and marketing group within 5 years
CHICAGO, ILLINOIS, (PRWEB) September 01, 2015
The Veterinary Cooperative (TVC) has now become the largest national cooperative serving veterinary clinics. Membership has doubled in the past 12 months alone to more than 1,000 independent clinics nationwide, representing more than 10 percent of those who belong to a cooperative or group purchasing organization (GPO).
Currently, TVC's members represent more than $1 billion in revenue of the $34 billion spent annually on veterinary care. "TVC is one of the fastest growing co-ops I've seen in my career," said Adam Schwartz, founder of The Cooperative Way.
A May 2015 report from the Federal Trade Commission indicates why belonging to an organization like TVC is so important: "…retail outlets sell pet medications at prices that are lower than the price at which most small veterinary clinics could purchase these products. It has been suggested that veterinary clinics could purchase pet medications through veterinary group purchasing organizations ("GPOs") or other buying cooperatives, in an effort to obtain more advantageous volume-based pricing."
Indeed this is already happening, according to Allison Morris, vice president of member experience at TVC. "Over 8,000 clinics belong to a buying group and over 2,000 are owned by corporations. This adds up to about 43 percent of all clinics in the U.S. participating in programs that allow them to compete with retail and online outlets by utilizing discounts, rebates and other advantages," she said. "At this current rate of growth over 90 percent of all independent small animal clinics will be owned by a corporation or part of a purchasing and marketing group within 5 years"
Started in 2012 by four veterinarians, TVC aims to level the playing field for independent veterinary hospitals in the face of growing competition from large corporate hospitals, big box pet retailers and online pharmacies. The member-owned cooperative's goal is to negotiate and partner with its vendors for exclusive favorable pricing and rebates on just about everything a clinic purchases, including laboratory services, pharmaceuticals, medical supplies, hospital equipment, flea and tick products, office products and more. In addition to boosting the purchasing power of its members, TVC helps its owner/clinics strengthen their competitive advantage by offering marketing programs, business management education and best practices targeted at enhancing clinic revenue and profit, and attracting more customers.
TVC has no monthly or annual fees, and members buy only the products they want from the suppliers they choose. "We've seen a great deal of consolidation in the distribution and manufacture of veterinary medical products and services, and we believe it will continue," Morris said. "In addition, we know that the number of corporate clinics is growing about 20 percent annually and their same-clinic revenue is increasing 10 percent yearly. Since the veterinary care market is not growing by 10% a year, independent veterinarians who are not growing by that amount are likely experiencing erosion of revenue and clients, leading to profit erosion. We're committed to making sure that TVC members have access to the business knowledge, marketing programs and pricing they need to successfully compete in today's marketplace."
To celebrate its third birthday, TVC has reduced its standard one-time lifetime joining fee from $1,000 to only $100 for the next 100 members and is offering a free 30-day trial. To learn more or to sign up for this special offer, contact Allison Morris at 847-370-3765 or visit http://www.tvc.coop/fish.