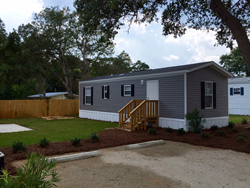 Destin, FL (PRWEB) July 24, 2015
Southern Residential Leasing – the Gulf Coast's leading provider of property management services in Northwest Florida and Alabama – has been awarded the management of Sibert Oaks, a new real estate development in the heart of Destin. To celebrate, Southern Residential Leasing will host an Open House on Saturday, July 25 from 11:00 am to 2:00 pm. The event will be held on site at Sibert Oaks located at 315 Sibert Avenue, Destin, FL, and is open to the public. Attendees are encouraged to stop by to tour the community and request additional information regarding current inventory, pricing and availability.
"Having an Open House is the perfect opportunity to showcase our new Destin long term rentals at Sibert Oaks and what they have to offer," said Southern Residential Leasing General Manager Joe Casal. "Over the past few months, the developers have worked hard to create a well-kept and sought-after community. We look forward to showcasing their efforts and highlighting the unique features of Sibert Oaks to prospective renters."
Completed in July 2015, Sibert Oaks is a mobile home community in the central Destin area. Situated on approximately .79 acres, the park contains seven brand new mobile homes, equipped with underground utilities and new water and sewer lines. Each mobile home has a fenced yard, a brick patio, landscaping, a storage unit and a driveway with two parking spaces. On site at Sibert Oaks, residents will have access to a community carwash and enjoy the benefits of an unbeatable location. The Harbor, Clement Taylor Park, Destin Elementary, the public library, area churches and the Destin Community Center are all within walking distance of the Sibert Oaks community.
Southern has been the premier provider of residential leasing, vacation rental and Gulf Coast real estate services since 1995. Owned and operated by two sets of brothers, Brad and Mike Shoults and Kevin and Kerry Veach, Southern extended its reach westward through a partnership with Pointe South's Owner/Broker, Susan Carleton. Together, the Southern family of companies have come to represent countless real estate opportunities, nearly 1,000 vacation rentals, over 40 associations and 1,075 long term rentals along the Gulf Coast. For more information about Southern Residential Leasing and available rentals, visit SouthernResidentialLeasing.com or call 850.837.4099.
###