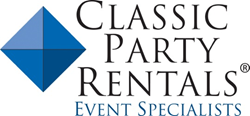 Los Angeles, CA (PRWEB) July 24, 2015
Classic Party Rentals, the nation's leading event rentals and services provider known for having the largest breadth of tenting inventory, has been chosen to help produce the 2015 Special Olympics World Games in Los Angeles. The event will host 6,500 athletes and 2,000 coaches representing 165 countries, along with 30,000 volunteers and an anticipated 500,000 spectators from Saturday, July 25th through Sunday, August 2nd.
"We are honored to have been chosen to create an Olympic experience unlike any other, a truly historic event for Los Angeles and the United States," says Bick Jones, Regional Vice President, Classic Party Rentals. "This is the largest event in Los Angeles since the Olympic Games and with our wide range of inventory Classic Party Rentals has been able to help construct the games from the ground up creating an exceptional experience for all."
The Special Olympics World Games will be the largest sports and humanitarian event anywhere in the world this year and will take Classic Party Rentals over two weeks to construct at multiple locations throughout Los Angeles including the famous historic Los Angeles Memorial Coliseum, the University of Southern California and LA Live. Classic Party Rentals will supply a total of 106 tents ranging from a 10-foot by 10-foot by 8-foot tent to a 12-meter by 30-meter by 3-meter structure totaling almost 70,000 square feet with 11,500 square feet of flooring. Also provided will be 1,014 tables, with 36 custom tabletops for judges scoring, and 14,800 chairs. Classic Party Rentals will round out the spectator experience with 240 stanchions and 2,260 feet of chain along with umbrellas, linens, pipe and drape, and picket fences.
About Classic Party Rentals
As the nation's leading event rentals and services provider with over 25 locations, Classic Party Rentals is the backbone for more than 150,000 events and celebrations per year. Their network of over 2,000 award winning event professionals is renowned for providing exceptional client services with a fresh and innovative approach to handling the most important events in the country. Boasting over 9 million choices from an unparalleled range of inventory that includes exclusive furniture, china, specialty linens, lighting, heating, flooring, tenting and more, Classic Party Rentals creates events that define the most remarkable moments in time. For more information, please visit http://www.ClassicPartyRentals.com.