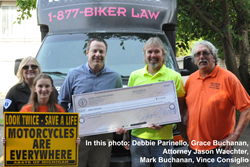 The ABATE Awareness program has been teaching new vehicle drivers about motorcycle awareness for over 20 years; that's one of many reasons I wanted to support them.
Lansing, MI (PRWEB) July 29, 2015
Attorney Jason Waechter, The Motorcycle Lawyer, is known within the biker community not only as an attorney they can trust, but one who is committed to giving back to the biker community. Every year, Waechter looks for new ways to get involved in promoting motorcycle awareness and safety, with the hope of potentially helping to prevent motorcycle crashes, injuries, and deaths. "I ride, so I know what it's like out there," says Waechter. "I feel like if there's something I can do to help keep bikers safe, I want to do it!"
That commitment to motorcycle awareness and safety is why, earlier this month, Waechter met with Vince Consiglio (President, ABATE of Michigan) and Mark Buchanan (Director, ABATE Awareness program) to hand over a huge donation towards the ABATE Awareness education program. The program is based on the idea that vehicle driver education is a key factor in reducing the number of motorcycle-vehicle crashes, injuries and deaths. "Vehicle drivers have a huge role to play in terms of motorcycle safety," says Waechter. "The ABATE Awareness program gets new drivers right from the beginning, as they are learning the basics. What better time to drill into them the message that Motorcycles are Everywhere?"
ABATE of Michigan has been teaching their Awareness program to new drivers since 1995, and in twenty years has reached tens of thousands of young drivers with motorcycle (and bicycle) safety and awareness information. This year, Nathan's Law took effect, a law which requires driver's education programs to teach students about motorcycle and bicycle awareness and safety. "The ABATE Awareness program could serve as a model for other driver's education programs," explains Waechter. "That's one of the many reasons I chose to support them this year."
The ABATE Awareness program is designed to be engaging and attention-grabbing; memorable, in other words. "Students get to try on biker gear, and the course material requires a lot of participation and interaction," says Waechter. "I hope that this will help new drivers remember what they've learned, and always Watch for Motorcycles," he adds.
Waechter is always on the lookout for creative ways to generate a buzz and get people talking about motorcycle awareness. "We've done some tamer stuff," he says, "like billboards and bumper stickers which are free on our website. But I'm always looking for really impactful ways to give back." Last year, Waechter donated one of his own motorcycles to the Motorcycle Safety Foundation (MSF) for rider instruction courses at Schoolcraft College. "That was memorable," he muses. "Giving back can take many forms; this year, I am all about promoting awareness to new drivers. Last year was a bit more literal, promoting rider training for new bikers," he says.
For more information on Waechter's ongoing efforts to promote motorcycle awareness and safety, visit his website or join the conversation on Facebook.
####
Jason Waechter has spent two decades cementing his reputation for results. He is known as The Motorcycle Lawyer in the biker community, and is committed to helping motorcycle accident injury victims. Jason has fought tirelessly for accident injury victims and contributed significantly to safety education and motorcycle crash prevention. He has entrenched himself as one of the nation's premier lawyers.
If you or a loved one has been injured in an accident, call 1-877-BIKER-LAW to speak with a lawyer who can help.