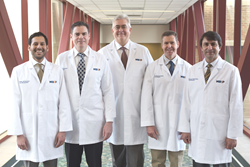 Less than 92% of our patients need any kind of surgery to help alleviate their pain. We explore every pain management treatment available before we consider surgery. Gary Dix, MD
Annapolis, Maryland (PRWEB) July 28, 2015
Maryland Brain & Spine has adopted a new name – Maryland Brain, Spine and Pain (MBSP) – and, along with it, more service offerings, updated treatment techniques, and additional state-of-the art online resources for patients. MBSP is the region's leading authority for pain management and minimally invasive surgical treatment of brain and spine conditions.
"Adding the word 'pain' may not seem like a significant change, but when you look at it from a patient's perspective, it is very important," said Brian Sullivan, M.D., MBA., neurosurgeon and MBSP president. "Restoring peace of mind and relief of pain is what our patients need, and it's what we do best." Dr. Sullivan is recognized as the region's most successful and prolific user of The Coflex® Solution, a 21st century medical procedure designed to replace traditional spinal fusion surgery for some patients with spinal stenosis.
"We consider our pain management capabilities to be the cornerstone of what we do at MBSP," said neurosurgeon and partner, Timothy Burke M.D. "We are entering a new era for how we treat pain, how we manage a spine or brain injury, and how we are able to bring patients 'back to function' so they can get back to their lives. Our physicians have the reputation of being conservative neurosurgeons and creative pain management specialists."
MBSP Pain Management Specialty, Innovative Procedures
Since 1984, MBSP physicians have treated a range of symptoms – with or without surgery – including: back pain, neck pain, nerve pain (radicular pain or sciatica), headaches, and joint pain (shoulders, hips, knees, etc.) In 2014, MBSP officially added a 'pain management' discipline to the team's neurosurgical capabilities - all focused on stopping a patient's pain.
"We treat chronic pain with a 'multi-modal' approach," said Tushar Sharma, M.D., one of two interventional pain specialists at MBSP. "Depending on the patient's needs, we may combine a mix of physical therapy, medications, injection procedures, and other modalities like acupuncture or pain psychology. Our procedures, such as spinal cord stimulators and certain endoscopic techniques, are so innovative that, in many cases, we are the only medical group in the Annapolis area offering them."
Minimally Invasive Approach - A 'Beyond the Bone' Philosophy
At MBSP, bringing a patient peace of mind and relief from pain can often be done without surgical intervention. The MBSP approach is one of expertise, compassion, and innovative technology. The physicians have a deep understanding about difficult nerve issues – pain, leg weakness, etc. – and are experienced in working around the delicate, intricate and vital structures of the nervous system. A neurosurgeon's experience working in and around the spinal cord minimizes the chance of nerve injury and additional pain.
"Less than 92% of our patients need any kind of surgery to help alleviate their pain," said Gary Dix, M.D., MBA, neurosurgeon and MBSP partner. "We explore every pain management treatment available before we consider surgery. Our goal is to provide patients with the most up to-date care to relieve pain and hasten recovery." Dr. Dix is recognized as an expert and preferred provider of the iFuse Implant System®, a minimally invasive surgical option for patients who have failed non-surgical options for sacroiliac joint pain.
"The MBSP team has been helping patients with their neck, spine and pain problems for three decades," said Zvezdomir Zamfirov, ('Dr, Zed') M.D., pain and rehabilitation specialist now treating patients in the new Glen Burnie office. "But medicine, treatment plans, surgical options and holistic approaches are ever-changing, and we as neurosurgeons and pain interventionists need to always recognize and be ready for what our patients may need to relieve their pain. Our new name reflects our mission to bring each of our patients 'peace of mind and relief of pain."
The MBSP Medical Team
With more than a century of combined medical experience in brain and spine procedures or pain management, the MBSP team of physicians includes: Neurosurgeons Brian J. Sullivan, M.D.; Timothy G. Burke, M.D.; Gary A. Dix, M.D.; and Interventional Pain Management Specialists Tushar Sharma, M.D., and Zvezdomir P. Zamfirov, M.D. MBSP Physician Assistants include: Carol Jerosimich, PA-C; Frank Hepfer, Jr., PA-C; Wendy Riekers, PA-C; Kerrie Sullivan, RN, MSN, CFNP; Alina Messick, MMSPA, MPH, PA-C, and Karen Scott, PA-C. To learn more about the medical team, visit us at mbsp.com.
MBSP LOCATIONS
MBSP welcomes patients at its four Maryland centers: Annapolis (Mondays through Fridays); Stevensville (Mondays); Glen Burnie (Monday through Friday) and Bowie (Thursdays).
Maryland Brain, Spine and Pain (MBSP) is the leading authority in the Mid-Atlantic region for pain management and minimally invasive surgical treatment of brain and spine conditions. We bring our patients 'peace of mind and relief of pain.' To learn more about MBSP or to schedule an appointment, call 410-266-2720 or visit mbsp.com. You can also find MBS+P on Facebook, Twitter and Pinterest.