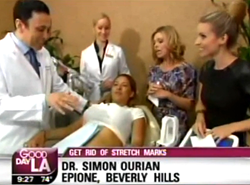 Los Angeles, CA (PRWEB) July 27, 2015
On July 14, 2015, Harper's Bazaar Magazine in an article titled "When to See the Derm for 7 Common Skin Issues," describes common skin issues such as stretch marks, fine lines, and acne scars and the technology available for cosmetic dermatologists to treat them. The treatment options listed include lasers, ultrasound, radio frequency, Botox, and dermal fillers. It is pointed out in the article that it's best to see a cosmetic dermatologist as soon as one of these conditions become apparent, rather than wait, for example, for stretch marks to turn from red to white or silver. (see: goo.gl/QTj5MG)
"The article is essentially a list of the issues we've been treating every day for more than fifteen years," says Dr. Simon Ourian, Medical Director of Epione Beverly Hills. "For the most part, I think the information provided is accurate and helpful. We've developed several of our own treatment protocols to address these skin issues. For example, we offer the Coolbeam laser protocol for treating stretch marks."
According to the Harper's Bazaar Magazine report, one should contact a physician immediately if the skin is blistering from a sun burn. Even if the burn isn't severe enough to warrant medical attention, readers should be aware that sun damage is cumulative and often takes years to appear. Botox is recommended for the treatment of fine lines and a combination of dermal filler injections and laser resurfacing is the treatment of choice for acne scars. Lasers can also be used to minimize dark spots and stretch marks.
"Great strides have been made in the past few years in the technology for addressing loose or sagging skin," says Dr. Ourian. "This includes the neck and jowls, as well as the backs of the arms, love handles, and thighs. When appropriate, we combine the latest fat killing technologies with skin tightening to optimize patient results."
Dr. Ourian has been a pioneer in laser technology and non-invasive aesthetic procedures including UltraShape, VelaShape, Restylane, Juvéderm, Radiesse, Sculptra, and CoolSculpting. These treatments are used for the correction or reversal of a variety of conditions such as acne, acne scars, skin discoloration, wrinkles, unwanted fat, stretch marks, varicose veins, cellulite, and others. More information about treating fine lines and wrinkles can be found on Epione's website.