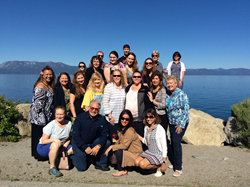 I am proud to say that Class 300 illustrates the diversity and caliber of our students, states Ted Bravos, CEO of ITMI.
San Francisco, California (PRWEB) July 24, 2015
The International Tour Management Institute (ITMI), the premier school for professional tour directors and guides since 1976, is delighted to celebrate its 300th graduating class. After completing an intensive 15-day program that included city tours, an overnight motor coach trip, safety training, tour commentary exercises and countless other tricks of the trade, the tired but happy new tour directors and guides were delighted to receive their diplomas at the graduation ceremony held in San Francisco on June 14th.
People from around the world attend the ITMI program in San Francisco. Students from South Africa, Peru, Russia, Hawaii, Canada and various U.S. cities comprised Class 300.
"I am proud to say that Class 300 illustrates the diversity and caliber of our students," Ted Bravos, CEO of ITMI remarked. "This class included an accomplished professional actress, a retired US Army Warrant Officer, an ESL teacher, a former principal of an international school, a cruise director from Peru, and a parent ready to re-enter the workforce after raising her children. We have found that there is a common thread among the individuals who desire to become a tour director or guide: they possess a passion for travel and the desire to make a difference in the world."
"Travel opens hearts and minds and builds bridges of understanding. Travel broadens our perspective and offers insights about other cultures. I believe that travel is the greatest university in the world," Bravos added.
The students who are accepted into the ITMI program are carefully selected to ensure that they will be marketable upon graduation. They range in age from 20 to 70+ and come from a variety of backgrounds.
An effective tour guide is an entertaining performer and a congenial host. The tour guide is also a good storyteller. The tour guide is a source of information. The tour guide sets the mood for the tour, a good tour guide will make the trip successful even if there is bad weather, a bad hotel or a bus breakdown. And, most importantly, a tour guide is an ambassador of goodwill.
About ITMI:
Since 1976, ITMI has been America's premier training and certification program for professional tour directors and guides, with over 8,000 graduates leading tours around the world. For more information about ITMI contact Annemarie Osborne at (949) 237-2906, or Annemarie.Osborne(at)gmail(dot)com, or visit http://www.itmisf.com.
# # #