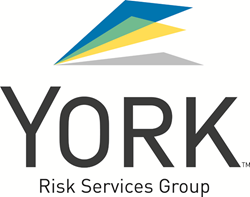 Parsippany, NJ (PRWEB) July 24, 2015
York Risk Services Group (York), a premier national provider of claims management, medical cost containment, specialized loss adjusting, alternative risk programs, pool administration and other insurance services, today announced that Skip Creasey has joined the company as Chief Operating Officer of York's Commercial Businesses and Executive Vice President of York Risk Services Group, Inc. In this role, Skip will have operational and strategic responsibility for the business units focused on the specialty markets York serves and will support York's commercial business operations, including claims, managed care, client services, risk control, insurance services, business intelligence data, client banking, and York's service center.
Skip comes to York than 30 years of leadership experience in the industry, and has held executive positions with some of the largest managed care and insurance services companies. Most recently, he served as President and COO of StrataCare, a leading provider of software and services to the Workers' Compensation insurance industry.
"Skip's extensive and multifaceted management experience will help drive York's commitment to operational excellence and to delivering best in class claims and risk management solutions that help our clients manage their total cost of risk," said Rick Taketa, President and CEO of York Risk Services Group, Inc. "Skip is a strong leader with a proven track record in innovation and execution," Taketa added. "We are excited to welcome him to the York leadership team."
"Over the last five years, York's focus on providing comprehensive, market-leading services that deliver results and add value has made the company the go-to partner for corporations, public entities, carriers and MGAs," notes Creasey. "It is exciting to be part of such a forward-thinking company and help drive the solutions that will meet our clients' evolving risk management challenges."
Creasey received a BS in Marketing Management from Virginia Polytechnic Institute and State University (Virginia Tech).