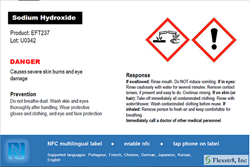 The Smart Choice in Smart Labels
El Segundo, CA (PRWEB) July 28, 2015
FlexStr8, Inc. announced today that they are offering a Smart Label GHS label printing/encoding solution. The EPSON® ColorWorks TM-C3500 printer with Neenah inkjet KIMDURA® label media for harsh environments have already achieved International Maritime Dangerous Goods BS 5609 certification, a key standard for the Global Harmonizing System (GHS) being adopted for chemical labeling around the world. Leveraging this printing technology, FlexStr8, Inc. has extended the intelligence and data transfer capabilities by incorporating Near Field Communication (NFC) chips directly in the labels. NFC is a type of RFID that can be written and read with many smart phones, negating the need for bulky expensive RFID readers. This offering is the only Smart Label BS 5609-certified solution allowing chemical and pharmaceutical companies to print compliant GHS labels with NFC data links.
FlexStr8 Smart Label solution allows high quality full color graphics with integrated NFC programming capabilities. The system consists of an Epson® ColorWorks® C3500 Color Label Printer, a FlexStr8 snap on encoder, and FlexStr8 NFC label software.
Encoding and printing FlexStr8 Smart Label Solution, easily integrates with Seagull Scientific's BarTender, the world's leading label, and printing, and barcode software.
FlexStr8 NFC GHS labels support a wide range of NDEF (URL, vCard, Phone number, and SMS) and Non-NDEF record types. Users can install applications and access product data updates, chemical safety information, and hazardous response information from the cloud by tapping their NFC enabled phones on the smart labels.
"The most important benefit of GHS is enhanced health and environmental protection through greater clarity and consistency in information provided to people who may be exposed to chemicals" commented Ralph Roessler, President at FlexStr8, Inc. "By enabling and allowing immediate access to virtually unlimited amounts of the most current SDS data, FlexStr8 Smart Labels provide the vital information to ensure the safety of chemical handlers and users, emergency first responders, and the public".
"Additional functionally can be added to the safety management of chemicals by incorporating FlexStr8 Android applications" says John Chigwenembe, Chief Technology Officer at FlexStr8, Inc. "By simply tapping the smart labels with your phone, Lot numbers, security verifications, time, and location stamps can seamlessly update into your internal database allowing worldwide management of your products".
One unique application is to encode the MSDS in multiple languages in the smart label, bringing critical information to the fingertips of all members in an international supply chain by simply tapping their phone.
About FlexStr8, Inc.
FlexStr8, Inc. develops, manufactures, and markets integrated smart label systems, smart labels, encoders and NFC software. Through continued research, new product development, and innovative manufacturing, we provide high quality cost effective technical solutions for our worldwide customers.
Customers interested in learning more about the FlexStr8 Smart Label system should contact FlexStr8 at +1-310-955-4094 Ext 0 or visit http://www.FlexStr8.com.
About Epson
Epson is a global innovation leader whose product lineup ranges from inkjet printers and printing systems, 3LCD projectors and industrial robots to sensors and other microdevices. Dedicated to exceeding the vision of its customers worldwide, Epson delivers customer value based on compact, energy-saving, and high-precision technologies in markets spanning enterprise and the home to commerce and industry.
Led by the Japan-based Seiko Epson Corporation, the Epson Group comprises more than 68,000 employees in 96 companies around the world, and is proud of its ongoing contributions to the global environment and the communities in which it operates. Epson America, Inc. based in Long Beach, Calif. is Epson's regional headquarters for the U.S., Canada, and Latin America. To learn more about Epson, please visit: http://www.Epson.com.
About Neenah Paper, Inc.
Neenah Paper is a leader in premium image and performance-based products, including filtration, specialized substrates used for tapes, labels and other products, and high-end printing papers. Neenah Paper is headquartered in Alpharetta, Georgia and sells products in over 70 countries worldwide from manufacturing operations in the United States and Germany. Additional information about Neenah Paper can be found at the company's web site, http://www.neenah.com.
Note: Epson and ColorWorks are registered trademark of Seiko Epson Corporation. Kimdura is a registered trademark of Neenah Paper All other product brand names are trademarks and/or registered trademarks of their respective companies.